Creative Concepts with Art Deco Tiles by Designer Ceramics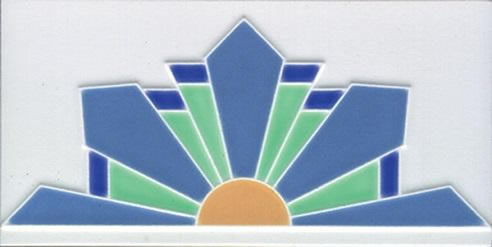 Homeowners and design experts need not look further than Designer Ceramics for world-class Art Deco tiles in Australia. Since 1951, Designer Ceramics has specialised in the design, production and distribution of embossed ceramic tiles and cappings with an authentic periodic appeal. The organic longevity of the Victorian-based company mirrors their dedication to quality craftsmanship and service. With their extensive catalogue, Designer Ceramics has built an impressive reputation within the building and design industries.
The Best Art Deco Tiles in Australia
Art Deco originated in Old World France as design step foot into the 20th century. The style can be described as a congregation of diverse cultures during different time periods from around the world. The inspiration behind its definitive geometric shapes - squares, triangles, diamonds, zigzags - even traces back to the pinnacle of ancient Egypt as early as 6000 BC. These trends were showcased at the "Exposition of Decorative Arts" in 1925 Paris, where the term "Art Deco" was finally coined.
Builders and designers first channelled the Art Deco style into the ancestral homes during the interwar period (Tudor revival, Californian bungalows, Spanish Mission, Jazz and Moderne). The bungalows leaned more on Edwardian elements rather than the ornate Art Nouveau features prevalent at the time, thus exhibiting an understated take on the Art Deco style. Designer Ceramics proudly presents their take with six decades' worth of expertise channelled into Art Deco tiles in Australia.