Set the Trend with Art Deco Border Wall Tiles from Designer Ceramics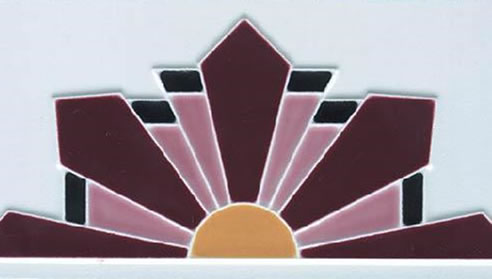 Art Deco border wall tiles are among the most sought-after products from period ceramic tile experts, Designer Ceramics. Anchored by more than 65 years of expertise, Designer Ceramics has put together a stunning range of ceramic tiles and cappings with an authentic vintage appeal. The outstanding longevity of the Australian-owned and operated company reflects on the timeless aesthetic value of the Art Deco style since its name was coined in 1925 during the "Exposition of Decorative Arts" in Paris, France.
Introducing Art Deco Border Wall Tiles
Designer Ceramics proudly offers Art Deco border wall tiles to those looking to capture the Old World look with unorthodox, yet elegant aesthetics. The decorative tile selection is designed with ornate sunrises and kites, as well as simpler listellos like diamonds and crystals. Homeowners and design professionals can choose from a wide colour palette to achieve their artistic vision. The tiles are also available in flat faces to provide a reserved elegance or embossed faces for more personality and dimension.
The Art Deco style traces back to Old World France at the turn of the 20th century. While its origins were European, Art Deco borrows influences from various cultures during different time periods across the globe. In fact, its definitive geometric shapes, such as triangles, squares, diamonds and zigzags, were inspired by the impact of ancient Egypt on architecture and design.
The earliest showcases of the Art Deco style can be seen in the ancestral homes built during the interwar period, including Californian bungalows and manifestations of Tudor revival, Spanish Mission, Jazz and Moderne. The bungalows were more inclined to Edwardian features instead of the intricate Art Nouveau elements popular at the time. This understated take on the Art Deco style can be easily achieved with Designer Ceramics tiles.