Artistic Interiors with Art Deco Wall Tiles by Designer Ceramics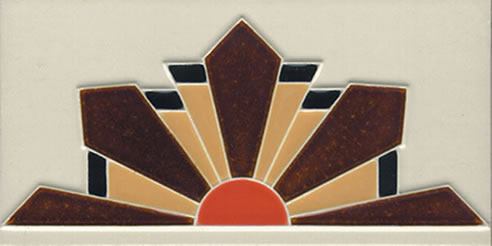 Art Deco wall tiles by Designer Ceramics are the creative choice to give drab-looking spaces a visual punch that never goes out of style. In service for more than 60 years, Designer Ceramics has mastered the shift of trends in the building and design industry to know what's in and what stays. The Victorian-based company continues to be the one-stop shop for world-class tiling products in Australia.
Why choose Art Deco wall tiles?
Designer Ceramics boasts an eclectic mix of Art Deco wall tiles to suit a wide range of indoor applications. Available in a vast spectrum of colours, the tiles feature decorative borders with ornate sunrises and kites, as well as crystals, diamonds and other listellos. The range includes flat faces for a straightforward look, and embossed faces to deliver a visual impact with structure and texture.
The intricate design inspiration of Art Deco wall tiles traces back to 6000 BC during the height of ancient Egyptian civilisation. The Deco era introduced numerous innovations in architecture and design, including forming decoratives borders using geometric shapes, such as squares, triangles, diamonds and zigzags. The style inspired trends introduced by the "Exposition of Decorative Arts" in 1925 Paris; and thus, the Art Deco or jazz moderne style was born.
The first showcases of Art Deco styles can be seen in ancestral homes built during the interwar period (Tudor revival, Californian bungalows, Spanish Mission, Jazz and Moderne). Bungalows were considered more understated in design, with some structures veering from intricate Art Nouveau features in preference to creative Edwardian styles. Today, Designer Ceramics allows homeowners and design professionals to achieve the classic Art Deco look with high-quality wall border tiles.