Concealed Cistern Flush Plates from Viega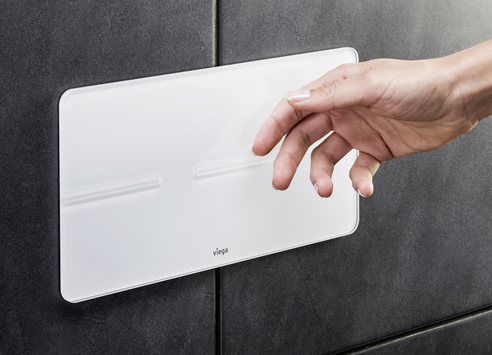 Viega launches new designer flush plate in collaboration with German design studio Artefakt
German brand Viega, one of the leading international manufacturers of concealed cistern technology, has extended its diverse range of designer flush plates in Australia with the launch of its award-winning* Visign for Style 105 model.
The result of a successful collaboration with internationally-renowned design studio Artefakt, the modern Visign for Style 105 will enhance the style and design of any bathroom. Visign for Style 105 features curved edges, high-grade materials and a distinctive geometric design to create a seamless, integrated look.
Visign for Style 105 is available with manual flush activation as well as a touchless model, the Visign for Style 105 Sensitive. Both incorporate the tried and tested Viega Bowden cable technology.
"The new Visign for Style 105 embodies the latest trends in bathroom design and offers a contemporary interpretation of standard flush plate design," says Robert Hardgrove, Viega's Technical Manager, Strategic Projects. "Viega now has a wide range of flush plates to fit harmoniously into the design of any bathroom. They've been created to match a wide array of ceramics and taps and can be retrofitted to any Viega cistern model from 1999, or later."