Game Changer: Periodic Tiles for Bathrooms from Designer Ceramics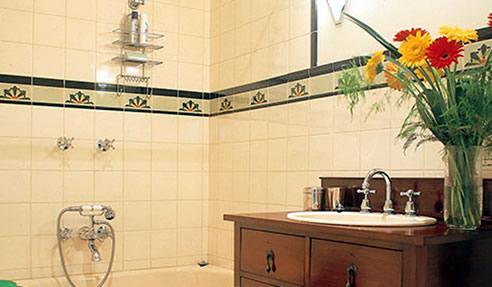 Using periodic tiles for bathrooms can instantly enhance the visual appeal of the restaurant. In today's fast-paced, tech-savvy, and the aesthetic-conscious world, another thing that the food industry pays close attention to, aside from the taste of the food, is the overall branding of food establishments. Ever since social media networking sites blew up, the need for an Instagram-worthy interior design is a must. Believe it or not, it can make or break a business. That's the power of branding.
As the vintage era makes a comeback, Designer Ceramics are here to provide Old English border tiles inspired by the iconic eras such as the Victorian, Edwardian, Art Deco, French Provincial, and Contemporary. By using their products, food establishments can easily achieve elegant and vintage looking interiors that can easily captivate the eyes of anyone who come by.
Why Use Designer Ceramics Periodic Tiles for Bathrooms?
Periodic tiles by Designer Ceramics can be applied to both kitchen splash backs and bathrooms to achieve a cohesive design all throughout the space. Bathrooms are often set aside when it comes to decorating. As the internet generation is fond of taking "mirror selfies" the bathroom should be accessorised with the right elements. Once posted online, netizens will be able to imagine what the whole place looks like, just based on that one photo.
Embellishing bathrooms with Designer Ceramics' unique border tiles provides an eclectic elegance that cannot be replicated by any other provider. Because Designer Ceramics have been in the industry for over 60 years, they have polished their way of handcrafting their products.