How Victorian and Edwardian Tiles Bring Eclectic Charm to Kitchens and Bathrooms?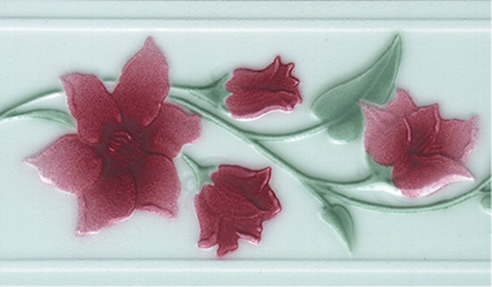 Victorian and Edwardian Tiles are some of Designer Ceramics' best-selling border tiles because of their versatility in merging well with different interior design styles. With durability and high performance to match, there is no denying that this product is something to consider right away.
Designer Ceramics' Victorian and Edwardian tiles feature curved lines and romantic floral patterns, providing an elegant and sophisticated look to bathrooms and kitchens. Available in a wide range of colour options, incorporating these Designer Ceramics border tiles to any style of interior design is made easy. Some of the selections in this range also feature embossed designs that can easily add depth and texture to the wall surface.
The interior design in the Victorian and Edwardian eras have distinct styles that separate them from other Old English periods. Luxury and romantic ambiences were a big hit in these golden days. There is no denying that the characteristics possessed by homes in these time periods are still evident in modern interior designs. The iconic look of vintage and nostalgic border tiles for bathrooms and kitchen splashbacks are still relevant up to this day and age.
Designer Ceramics used to manufacture various ceramic components in 1951. A couple of years later, they decided to focus on the craftsmanship of Old English ceramic border tiles. This allowed them to be proficient in design and production of the tiles they offer today.