Sustainable Perspex Furniture Design from Mitchell Group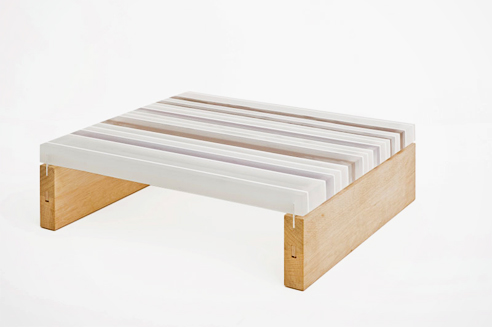 Dutch designer, Reinier de Jong, is about well-considered, lasting products that tell their own story. His recent project, the PLET side table goes one step further by extending the lifespan of the material used to craft the table.
PLET table measures 600 x 600 x 180mm and consists entirely of upcycled materials. Reinier happened to stumble upon a batch of Perspex® acrylic sheet offcuts, which inspired him to create the PLET table. Even the oak wood base is recycled from a former dining table top.
A combination of Perspex® Clear, Opal, Tints & Frost in 4 - 15mm thickness were cut to size, glued together and sanded by hand to finish. The combination of the strips and Perspex® acrylic's ability to play with light creates an intriguing and striking table top.
PLET fits well with Reinier's aim to create bold yet refined products, but to do this while embracing recycling of material and to do it on a micro production scale is commendable.
Take a look at more case studies which harness the creative potential of Perspex® acrylic.
Mitchell Plastics is the authorised Australian and New Zealand distributor for Perspex® acrylic.