Greenhouse Solution Using Perspex® CC from Mitchell Group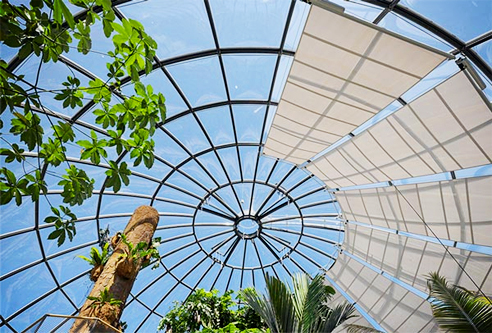 The Botanical Gardens in Zurich are famed for their tropical greenhouses mimicking three diverse climates: wet lowland, hot and humid tropics and dry arid conditions. Housing many specialist plants which would not otherwise be seen in Zurich, the greenhouses have become an iconic feature of the landscape in the gardens at the University of Zurich.
Haerle Hubacher Architects, commissioned to refurbish these prestigious greenhouses, designed a ventilated double glazed construction to produce the correct levels of condensation (with a high level of energy efficiency) for optimal plant growth. This required a high performance glazing material for the revolutionary greenhouse technology.
Perspex® CC Clear, continuous cast acrylic in 6mm thickness, was selected for the project. It met the critical requirements for the glazing material in this demanding application; maximum light transmission with UV stability and excellent weatherability, offering outstanding lighting conditions for the plants along with durability for the self-cleaning greenhouses.