Perspex Acrylic Panel Temporary Structures from Mitchell Group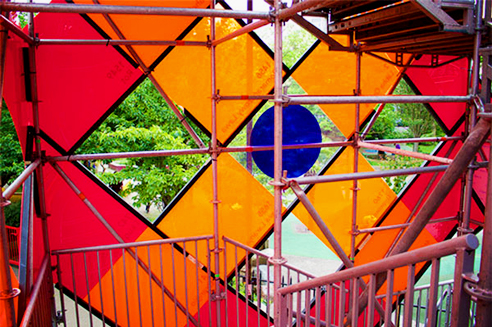 The Beacon is one of Clerkenwell Design Week's most ambitious installations to date, standing 26 feet (8 meters) tall; the fiery colour pallet is made up of red and orange Perspex® acrylic panels that dominate the setting; contrasting against the natural rich greenery of the 'Design Fields' within Clerkenwell, UK.
During the 3-day show, visitors could climb the temporary tower via the encased stairs that lead up to a viewing platform that overlooks where industrial Clerkenwell meets the historical. The structure internally holds an unanticipated creative flair: the Perspex® acrylic panels are juxtaposed against rustic steel scaffolding poles and barriers. The vertical framework, together with the diamond shaped external design, generates extraordinary architectural-like guidelines.