Viega Propress chosen for Mirvac Latitude Leighton Beach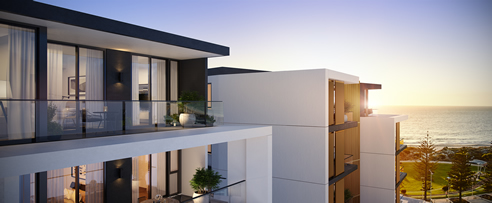 Situated in one of Perth's most sought-after locations, Mirvac Latitude Leighton Beach is a unique seaside development offering 249 one, two and three-bedroom oceanfront apartments.
Ideally positioned adjacent to North Fremantle's famous Leighton Beach, the prized real estate addition is only 15 kilometres from the Perth CBD and just 5.5 kilometres from the heart of cosmopolitan Fremantle.
With completion anticipated for late 2017, Latitude's breathtaking ocean views, pool, gymnasium, and architect-designed internal courtyard are destined to qualify it as one of Western Australia's most prestigious addresses.
The perfect alternative to traditional plumbing solutions
Viega Propress was used for hot and cold-water distribution to service all 249 apartments in sizes varying from DN15-100mm. Hot water delivery was supplied from two central energy plants located on the roof of the new buildings. Viega Propress Gas was also used on the copper installation for gas supply to each of the luxury apartments.