Failsafe Hydraulic Gas or Water Solution-ProPress from Viega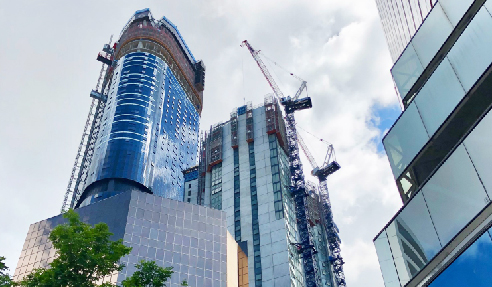 Viega ProPress used for Brisbane's tallest residential tower
Brisbane Skytower is a 270-metre (890-foot) skyscraper that will become Brisbane's tallest residential tower when it is completed in early 2019. Soaring 90 storeys above the city's central business district and taking up a footprint of 5,600 square metres (60,000 sqm ft.), the multi-use project will include 1,128 one, two and three-bedroom luxury apartments as well as sub-penthouse and penthouse apartments.
Residents will not only have access to Australia's highest infinity swimming pool and multiple recreation decks but also breathtaking views as far as Moreton Bay, Stradbroke Island, the Gold Coast and the Great Dividing Range.
Constructed by Hutchinson Builders-one of Australia's largest privately-owned construction companies founded in Brisbane in 1912-at an estimated $367 million cost, the ambitious project spearheaded by property developer Billbergia and investment company AMP Capital is set to become a new Brisbane landmark.
Viega's fail-safe hydraulic solutions
Viega has supplied well over 20,000 ProPress copper fittings, which are being used to transport hot water, cold water and gas throughout the entire building.
Planet Plumbing Group project manager Travis Walkley says Viega's 'Smart Connect' safety feature, which is a small bypass chamber that provides a positive leakage point but is completely sealed during the pressing process, is what allows him to sleep at night.
"If you forget to press a copper fitting, it gives you the ability to test it to make sure there are no leaks in the future," he explains. "Usually when you do a test, it's possible that a fitting may hold for a period of time if it's clamped to the side of a fitting-as in the pipework's clamped strongly-it might hold the tension-then weeks or months later it'll blow and flood the place. Whereas Viega's fittings, if they are not pressed, are guaranteed to leak between 100-650kPa, so they don't have the option of doing that. It's that failsafe that I really enjoy about the product."
Fitted without soldering, welding or glueing, Viega ProPress is the no-fuss solution for commercial, industrial, multi-residential and domestic gas and water installations. For hydraulic contractors and engineers responsible for the construction of multi-million-dollar projects like Brisbane Skytower, that means ultra-fast installation and a quality assurance that only comes from German precision engineered and manufactured fittings.
"You simply push it together and crimp the tools-you just need to have your battery charger tagged, just like every other battery charger you use on site, which is a normal part of the process," says Travis.
"Viega is the only product I've used over the past two years on big projects like this one," he says. "We've never had any issues with it to date. It's great."
Viega Planning Consultant Gerard Collie says some of Australia's most respected construction specialists were working on Brisbane Skytower, which has already become a seminal building due to its scale.
"It is a pleasure for my colleague, Jason Tolman, and myself to work with Travis and his professional team from Planet Plumbing on this iconic project."