Hygienic Water for Major WA Health Infrastructure with Viega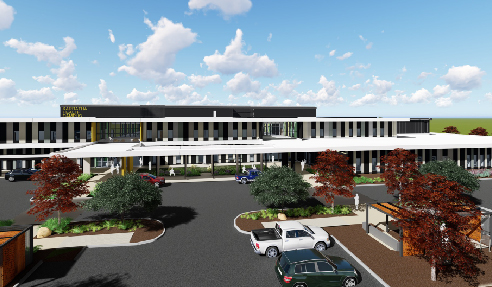 Viega helps deliver hygienic water for the largest health infrastructure investment in regional WA history
Set to become the largest health infrastructure investment in regional Western Australia's history, the $207.15 million Karratha Health Campus has ushered in a new era in healthcare excellence.
With practical completion announced last month, the 40-bed facility features an expanded emergency department, brand new surgical centre, new delivery suites and maternity wing, world-class Telehealth services, new and expanded outpatients, and essential services such as child health and medical imaging-all in one convenient location.
The Campus will also provide a comprehensive 'one-stop shop' for the delivery of integrated health services including physiotherapy, speech therapy, counselling, community health nursing, and community mental health.
Not only promising to facilitate easy community access to world-class healthcare, but the campus will also provide valuable support to smaller regional hospitals including Roebourne, Tom Price, Paraburdoo and Onslow.
No need for hot work permits and fire extinguishers
Viega Propress was used on this project for hot and cold-water distribution from the Central Energy Plant (CEP) to service the main hospital. And likewise, with the Sanpress Inox stainless steel system, the system was used to supply high-quality, Reverse Osmosis (RO) water from the CEP to the main hospital building.
Axis Plumbing Services WA Pty Ltd was charged with the important task of overseeing all plumbing requirements for the new campus. Project Manager Ashley Hand says the use of Viega products and processes offered a number of key advantages.
"The Viega system offers a fast installation process compared to when you're using oxy-acetylene," he explains. "The labour component is reduced, and the specially-calibrated tools provided by Viega makes it easy for the guys on-site. Safety-wise it's a lot better as well because you don't have to have hot work permits and fire extinguishers in place. It's also a pretty tight product.
"If you've installed it in the manner that Viega teaches, there won't be any issues in regards to leakage when it comes to testing.
"Viega's Sanpress Inox press connectors are made of high-alloyed non-rusting stainless steel and are-like all other components of the system-available in sizes between 15 and 108mm. This ensures they are particularly suitable for use in applications like the Karratha campus. And with the proprietary Smart Connect-Feature, all the connectors are forced to leak during testing, which means that if the connections are accidentally left unpressed, the medium escapes and the pressure drops on the gauge.
"It's vital that for drinking and industrial water systems that all components be undamaged and possible contamination of pipes is excluded," explains Viega's Richard Bowley. "Viega's Sanpress Inox technology delivers the ultimate in water hygiene and enables fast and safe installation."
Visit www.viega.com.au for more information today.