Copper Pipe Installation Solutions for Sky One by Viega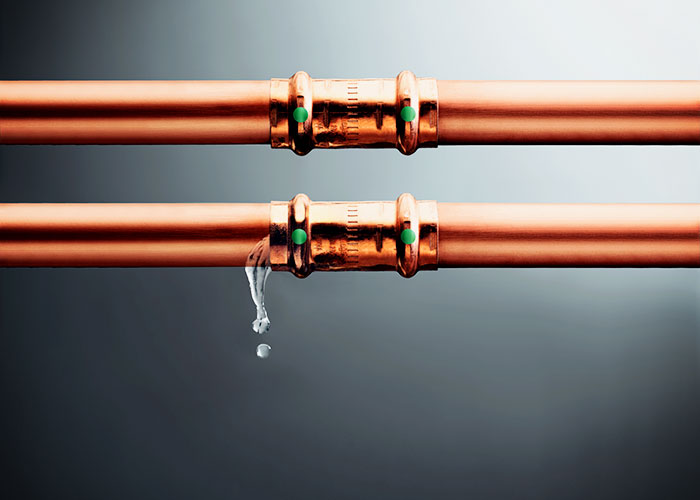 Viega's safe, reliable, and economical copper pipe installation solutions
Standing an impressive 36 stories high, Melbourne's Sky One is set to become one of Box Hill's tallest developments. Scheduled for completion in late 2019, the landmark building integrates 438 residential apartments with three levels of premium retail and dining. Featuring a sculpted glass and metal bronze exterior, the mixed-use project will include mah-jong rooms, children's play pools, a wellness spa, yoga studio, and library.
Concealed behind the luxury interior fitout is Viega's Propress copper pipe system, a German engineered plumbing solution that completely eliminates the hazards associated with soldering and brazing fittings.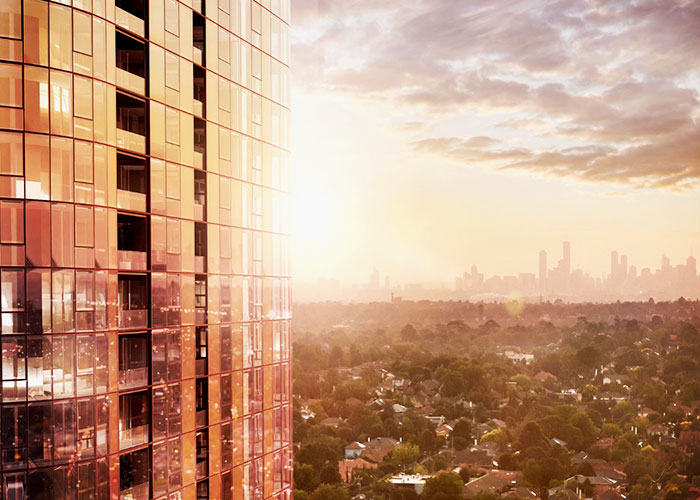 Efficient gas and water drinking installations
Liquid Vision Plumbing director Philip Merambeliotis, whose company also used Viega components in Melbourne's Istana luxury apartment tower, installed Propress throughout Sky One's 36-storeys. He says Viega's press fittings are a superior way to join copper pipes, which is why he doesn't hesitate to recommend them to his plumbing and hydraulic peers.
"There's no doubt it's quicker and easier using a pressgun," he says. "Soldering takes roughly five minutes per join whereas using Viega's Propress system does it in about four seconds."
Describing Viega's pressguns as "quick to learn and straightforward to use," Phil says the installation process is completed with minimal effort. "Once you cut the copper tube at right angles, you deburr the inside and outside. Propress' sealing elements are already lubricated, so you just slide the press fitting onto the tube until it stops," he explains. "After marking the insertion point, you position the correct size jaws onto the pressing tool and push the holding pin until it locks into place. Then you just pull the trigger."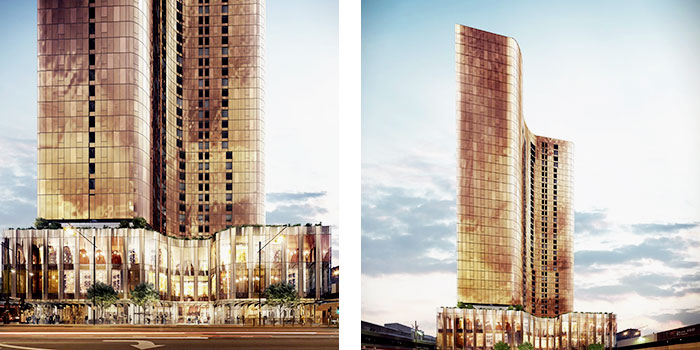 Safe, reliable, and economical copper pipe installation solutions
Viega planning consultant Richard Andrew says Propress mitigates the hazards associated with traditional installation tools and techniques such as oxy-acetylene welding.
"This reduces risks associated with welding in close proximity to other services, working with extremely hot surfaces and transporting oxy-acetylene sets," he says. "This makes the process much easier."
Viega's patented SC Contour Smart Connect feature, which provides a positive leak path to demonstrate unpressed fittings, provides contractors with the certainty that the installation is completed.
Construction Facts
Object: Sky One
Location: Melbourne, VIC, Australia
Year: 2019
Object Type: New building
Area of use: Mixed-use
Developer: Golden Age Group
Architect: DKO Architecture
Construction: Hickory Group
Product: Viega Propress
Plumbing: Liquid Vision Plumbing
Rendered images courtesy www.dko.com.au