Telecommunications Access Pit Replacements by CUBIS Systems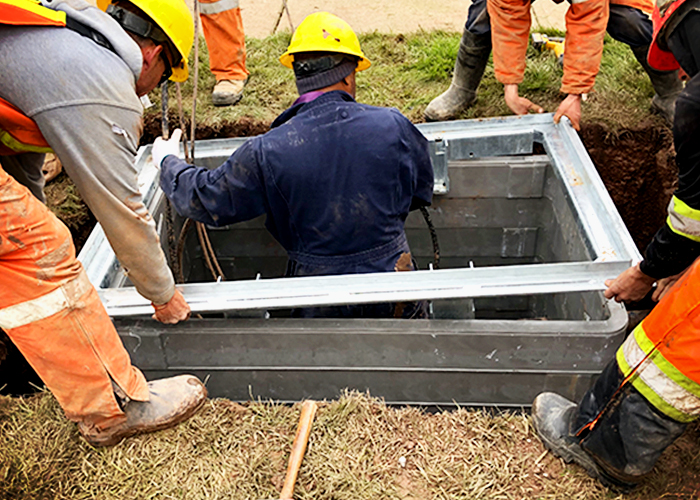 A number of CUBIS Systems' STAKKAbox™ ULTIMA were specified for this telecommunications infrastructure access pit replacement project for Rogers TV in Ottawa, Canada. The project required easy installation, flexibility due to site conditions, and being able to install the new pits without disrupting the fibre optics cables.
Critical to the success of the project, STAKKAbox™ ULTIMA units with AX-S™ composite covers by CUBIS Systems provided an easily deployable solution. STAKKAbox™ ULTIMA's modular make-up provided flat-packed delivery and easy assembly on site. Lightweight, flexible in terms of pit height, and versatile with easily fastenable components, the installation was completed in approximately 4 hours. Not least, since the STAKKAbox™ ULTIMA was constructed around the existing infrastructure, the project was completed with no interruptions to service and did not require any heavy machinery.
Unlike typical installation methods, the CUBIS Systems solution offered Rogers TV a fast, effective, and cost-effective installation.The STAKKAbox™ ULTIMA met unique site requirements such as an ensured load resistance of well above the ANSI/SCTE Tier 22 standard and a customisable depth when it came to adjusting the pit's ultimate height during the building process. For more information on STAKKAbox™ ULTIMA by CUBIS Systems, or this telecommunications access pit replacement project, head over to www.cubis-systems.com/au today.