Zero-Defect Press Connection Technology from Viega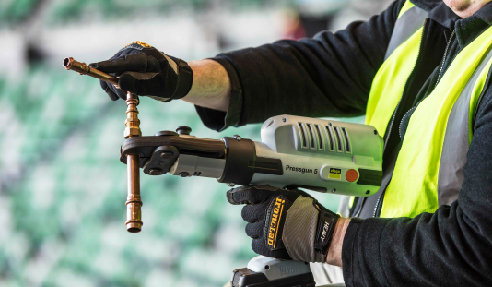 Twice the Time-Savings: Viega's Zero-Defect Press Technology
Now Aussie plumbers can focus more on installing fittings and spend less time on time-consuming safety procedures with Viega's flame-free Propress technology. That's because Propress eliminates the need for any solder or flux to be used during installation, reducing the time and cost associated with oxy sets and hot work permits. It also allows you to join wet connections-making it a fast and reliable solution for maintenance and emergency repair jobs.
Used in millions of applications all over the world, not only in sanitation, heating and gas applications but also in industrial facilities such as compressed air, cooling waters and process media, Viega's press connection technology is recognised as the modern-day alternative to traditional soldering here in Australia. Here are a few reasons why.

Fast assembly in three steps: Viega press technology integrates just three simple steps: cut the pipe, press and finish. Time-consuming preparation and finishing work such as drying pipes and removing traces of fire and solder is no longer required. In fact, it's 75 per cent quicker compared with conventional brazing. Double pressing in a single work step: Viega press tools can complete two press connections in a single step-one in front of the bead and one behind. This not only ensures permanent stability but also enables the job to be completed in seconds-and no fire hazards or need for inefficient fire safety permits and precautions. Long-lasting reliability: Viega's double pressing technique-one before the seam and one after-guarantees long-lasting stability in the pipe system. And the Smart Connect-Feature technology included in products across the Viega range also ensures maximum leak detection. Unpressed connections are guaranteed to be noticed when filling the installation. Requires less equipment: With Propress, there is no need to buy or carry expensive, bulky equipment such as tanks and hoses, and no need for supplies like thread cutters, solder and flux.

Put simple: Less time, less money, less risk and less hassle.

Quality assurance for Queensland's Tower of Power'

Viega's zero-defect press fittings was a key reason why Axis Plumbing chose Propress for Brisbane's tallest commercial building-dubbed 'The Tower of Power' and construction catalyst for the revitalisation of the Queens Wharf precinct.

"The best thing about the Viega Propress system is that it offers fast, flexible and safe copper pipework installation, which helps overcome the challenges of working on such a large-scale project," explains Axis Plumbing's Queensland Project Manager Rob McAlister. "The product gives us the ability to capture any unpressed joints thanks to their Smart Connect-Feature."

Keeping it in the ballpark

With the ability to meet stringent project deadlines crucial, Viega's world-renowned Propress technology was the obvious choice when it came to selecting a pipework solution for the multi-million-dollar refurbishment of Melbourne's Rod Laver Arena.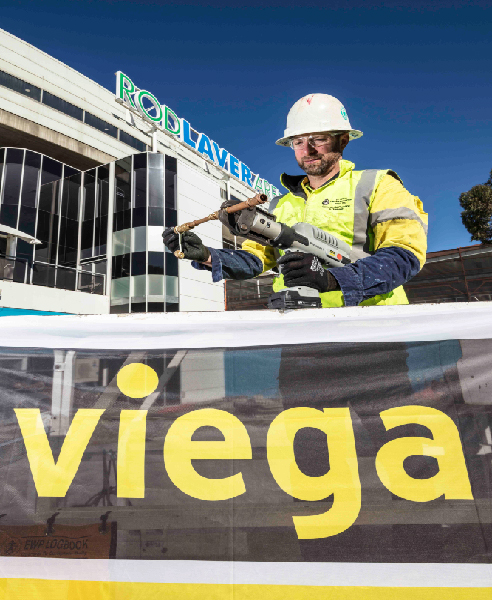 "With such a tight schedule, our products were perfect for the job," explains Viega Planning Consultant, Richard Andrew. "Propress enables a very quick install, saving 75% of labour time. And there's no need to rely on somebody's ability or skill to weld. It's really just a case of putting it together, pressing it, and getting a certain joint each time."
Wilson Plumbing and Draining Project Manager Jamie Morison says the Propress system enabled contractors to carry out installation quickly and effectively.
"The need for welding in tight areas, which can easily trigger smoke alarms, is negated when using Viega," he explains. "Viega is an awesome product and we use it on the majority of our projects."