Adapting Old English Tiles to Modern Bathroom and Kitchens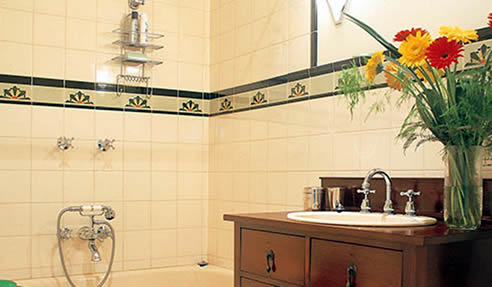 From Classic to Modern Chic
Classic, elegant, and sophisticated - three of many words that describe the residential and commercial interiors back in the mid 1800's to the early 1900's. It was a time where romantic patterns appeared in most draperies, wallpapers, and kitchen and bathroom tiles.
Today, new trends and styles have been sweeping the interior design industry, allowing more and more people to mix and match pieces to create their own form of self-expression and lifestyle. In recent trends, we see more simplistic and basic shapes and light solid colours but, emerging trends feature the combination of distinct styles of interior design meshed into one.
We have the freedom to give our own spin on what once was two separate and specific kinds of styles and turn them into a new genre of interior design. Combining two different kinds of styles is risky, and there are chances that it might not always work, but if it does, give yourself a pat on the back because you may have just set the next style trend. Remember that there are no limits to creativity and the possibilities are endless when it comes to experimentation.
The bathroom is said to be the sanctuary for relaxation. Sounds very Zen, doesn't it? That's why hotels and some commercial buildings go the distance in making efforts to provide comfortable and luxurious accommodation. And nothing says luxury like the Victorian and Edwardian era.