Remodelling Kitchens Using Embossed Ceramic Tiles by Designer Ceramics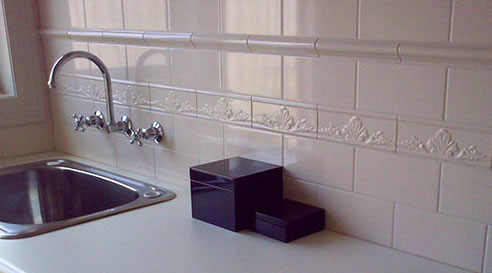 Renovating or adding extra details to your interiors? Sure the holiday season is fast approaching, but why not go for a more timeless addition that can stay in style any season? While decking the halls with boughs of holly, install embossed ceramic border tiles for your kitchens while you're at it!
Designer Ceramics is an Australian company that designs, manufactures, and supplies ceramic wall tiles ,for kitchen and bathroom use. Specialising in Old English tile styles, Designer Ceramics' products exude timelessness, class and versatility to recreate vintage styled interiors, or to add an extra touch of personality, to a modern space.
Designer Ceramics' tile designs come in the following styles: Victorian, Edwardian, Art Deco, Contemporary, and the ever flexible French Provincial. Their French Provincial ceramic wall tiles feature embossed designs of various romantic floral patterns. When installed the correct way, keeping in mind the overall aesthetic of the space, these tiles scream luxury and can bring a dainty and elegant feel when applied to your kitchen wall.
While it took centuries for the French to perfect their Provincial look, Designer Ceramics offer a collection of tiles that recreate the French provincial look in an instant.
The origins of the French Provincial style came from the high fashion style of Louis XIV and Louis XV, but because those styles are too extravagant, these simplified interpretations have just the right amount of flair that is applicable for modern kitchens. Designer Ceramics' embossed ceramic border tiles emanate a relaxed European look reminiscent of revival styled homes in the 1920's and 1960's, that enhance and add to the elegance of the kitchen space.