Perspex® Frost Landmark for Circular Quay by Mitchell Laminates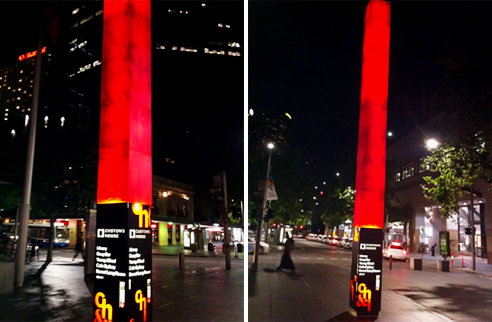 Dramatic column of Red Perspex® Frost
points the way for visitors to Sydney's Circular Quay.
Visitors crossing Sydney's Circular Quay after a ferry ride across Sydney Harbour or a night at the Opera House know exactly where to go, thanks to a Perspex® landmark which is seen by thousands.
The backlit "red column," totem sign located near to the Customs House in Sydney's Circular Quay, is made from bright Chilli Red 10mm thick Perspex® Frost cast acrylic, decorated with applied vinyl graphics and set on an aluminium base.
This award winning wayfinding sign was designed by Central Signs and manufactured by experienced Perspex® Fabricators Allplastics Engineering using Perspex® supplied by Australia's official Perspex® distributors, Mitchell Plastics.
In a busy thoroughfare and exposed to the elements, Perspex® Frost was the perfect material for this directional column. Perspex® is tough and hardwearing, is guaranteed for 10 years to withstand all kinds of weathering including strong sun and its smooth matt surface is perfect to ward off finger marks and surface damage.
Since its installation, the now famous "Red Column" has become a local landmark, guiding people to where they want to go and adding an element of colour to this busy tourist area.