Propress Pipework System for Healthcare Facilities from Viega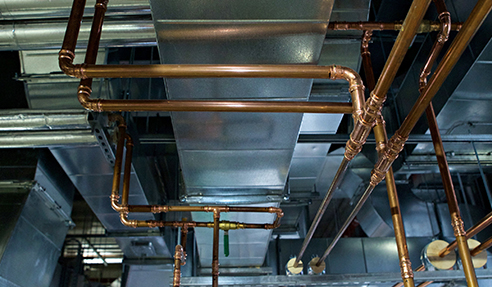 Viega's components chosen for a state-of-the-art healthcare facility
Scheduled to open in late 2018, Sydney's Northern Beaches Hospital will provide complex healthcare solution for an estimated 250,000 residents who live in the surrounding suburbs. For the first time in history, the local community will be able to access the majority of their medical needs without having to leave the Northern Beaches.
The state-of-the-art facility located in Frenchs Forest will include 488 hospital beds - bringing the total number of beds in the Northern Beaches Health Service to 554 - a large integrated emergency department, intensive care and critical care units, and a modern inpatient mental health facility. Described as a "centre of clinical excellence in health, teaching and research" by former NSW Health Minister Jillian Skinner, the nine-storey high structure will include a multi-storey 1,400-space car park and helipad.
The perfect solution when working in congested spaces
Brown and Moodie mechanical plumbers were contracted by Fredon Air Pty Ltd to install mechanical services throughout the new multi-million-dollar project.
"Viega components were installed widely throughout the project as part of the chilled and heating water mechanical pipework systems," explains Quentin Brown from Brown and Moodie. "Viega's Propress system is a quick and efficient installation method of copper pipework systems and is particularly advantageous when working in close proximity to other services. Eliminating the use of oxy and acetylene equipment in congested ceiling spaces minimises the risk of damage to other services."
Made from hygienic and anti-corrosive copper, this certified system also offers the patented Viega Smart Connect-Feature, which allows installers to quickly identify any un-pressed connection during a pressure test. The Viega cold pressing technology also enables fittings to be pressed without any time-consuming draining of lines.
"Viega Propress is worth consideration for incorporation within pipework systems," says Quentin. "Quick and efficient installation without the restrictions that arise with silver soldering makes Viega Propress a viable proposition."
Axis Plumbing Project Foreman Colin Rosello says the timeframe from completing joints to cleaning areas was much quicker thanks to Viega.
"We also found during the testing phase that there wasn't any soot or residue in the water usually caused by welding," he explains. "Would I work with Viega again and recommend it? One hundred per cent."
Object: Northern Beaches Hospital
Location: Sydney Australia
Year: 2018
Object type: New building
Area of use: Health
Installation: Brown and Moodie
Head over www.viega.com.au for more information today.