CUBIS Customised Infrastructure Solutions Design & Engineering Services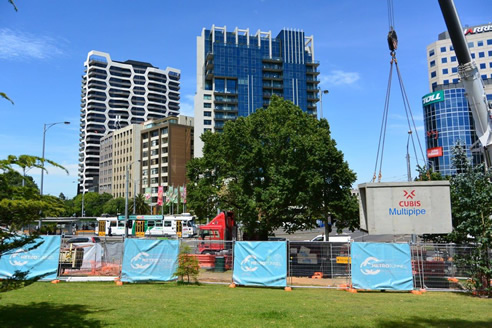 Customised Infrastructure Solutions
Expert Design & Engineering Services by CUBIS
Case Study
The Early Works phase of the $10.9b Metro Tunnel project in Melbourne has begun with CUBIS Systems installing the first rail pit at one of the city's busiest intersections.
The project is anticipated to be completed and operational by 2026, with five new underground stations and 39,000 more people commuting during peak hour.
Project Priorities
Fast production & install Minimal impact on surroundings Robust solution utilizing design innovation
Count on CUBIS!
Our team of engineering and design experts provide efficient and effective solutions. The BVCI™ precast concrete access pit was delivered to the highest standards of build precision all within less than 1 week.
The sizeable 3.6mx1.65mx2.7m BVCI™ precast concrete pit had no floor or end walls involving transportation through a highly-populated city and requiring the pit to accommodate pre-existing cables boxed within the site.
Not a problem for our team - in under 7 days the project was completed and CUBIS were ready for the next one!
Read the Metro Tunnel Case Study via http://www.cubis-systems.com/au/case-studies/