Planning your Kitchen Renovation: Considerations with DesignBUILD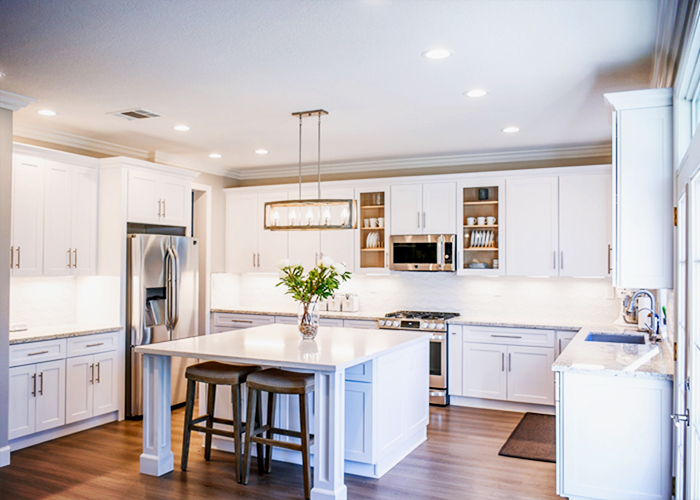 Gone are the days when your kitchen was concealed behind closed doors. Today, it has become a fundamental feature of the home where families congregate, cook, and even eat together, spending quality time bonding over form, function, and food. It is no surprise that more homeowners have become invested in renovating their kitchen area to make it more aesthetically pleasing, functional, and communal.
A kitchen renovation does not have to be complicated and expensive. If done correctly, a few key changes and upgrades can create a powerful impact. Here are some of the most essential components to consider when embarking on your kitchen renovation project.
Rangehood
While often overlooked, rangehoods are vital in modern kitchens. They are designed to expel odours, heat, and smoke from your house, improving air quality and comfort. Rangehoods either expel the gases outside the room or draw in and recirculate air via an integrated filtration system. Some are also manufactured with lightning to highlight cooking areas.
Kitchen Sink and Tapware
Sinks and tapware are at the heart of the kitchen. Since food preparation such as washing and cutting is done here, interior designers and homeowners alike are meticulous in selecting sinks and taps that are built to last in terms of style, size, and performance. Stainless steel is the most popular material as it is easy to style and maintain despite considerable usage and exposure to waste.
Benchtop
A predominant element of kitchen spaces, your choice of benchtop will greatly influence your interior design scheme. There are an extensive variety of materials for benchtops to choose from with each offering distinct style and function. For example, laminated woods would work best in traditional or vintage kitchens, while natural stones and stainless steel are fit for modern homes.
Australia's leading building, design, and trade expo, DesignBUILD showcases the most beautiful and innovative solutions for kitchen renovations such as rangehoods, sinks, tapware, benchtops, joinery, and storage solutions. Discover the latest kitchen trends by attending the DesignBUILD: Reimagined 2020, returning this year in Melbourne at the Convention & Exhibition Centre from 21-23 April. For more information, visit www.designbuildexpo.com.au today.