Discover DesignBUILD 2012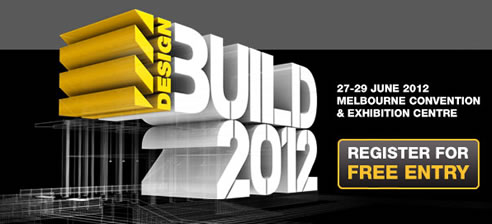 An exciting showcase of new products, innovations and technologies await you at DesignBUILD, Australia's leading building design trade expo.
Simply regiser online today for free entry.
With the largest ever Green Building Zone and first interactive Innovation Alley, DesignBUILD has the innovation needed to stay at the forefront of building design. Over 250 leading suppliers will showcase the widest range of building materials, from planning to post construction, including industry leading advancements in sustainable design technologies.
On show at DesignBUILD 2012

See the largest ever green building exhibit
Browse the largest ever Green Building Zone located at the centre of the expo to get to the heart of green building. From solar panels and insulation to the latest water saving devices, see hundreds of products from Kingspan Insulation, CSR Building Products, FrameCAD Solutions, Bosch Hot Water and Heating and more that represent the future in sustainable design.
Read more

Uncover the latest product innovations
Uncover the top innovations in the market at the first ever interactive Innovation Alley, proudly brought to you by FrameCAD. Experience the latest expanded clay aggregate from Clinka, SmartGlass revolutionary window technology from CSR Viridian or the Performa 4.0 new slim line thermo reflective insulation product from Polyair with a chance to touch materials, feel textures and hear case studies.
Read more

See hundreds of leading suppliers
Discover the latest products and technologies from over 250 leading suppliers including CSR Building Products, Kingspan Insulation, Aluminium Industries and Studor Inventive Technology. This year's expo will host dedicated International Pavilions from more than ten countries, giving you the chance to source the latest building materials and suppliers from around the globe.
See who's exhibiting

Learn from CPD accredited seminars
Join an acclaimed panel of industry leaders in the inspirational seminar series to get the knowledge, information and insight you need to stay ahead as a building professional. Topics include 'Now and the future - Sustainable building', 'Show me the money - Where's the next big job coming from?', 'Understanding lighting and easy energy efficiency', as well as a line-up of technical product focused seminars.
Read more
Plus look out for the winner and runners up of the Selector Best New Product Award as they are unveiled at DesignBUILD 2012.
GET MORE INSPIRATION AT DESIGNBUILDEXPO.COM.AU