Composite Pit Covers from CUBIS Systems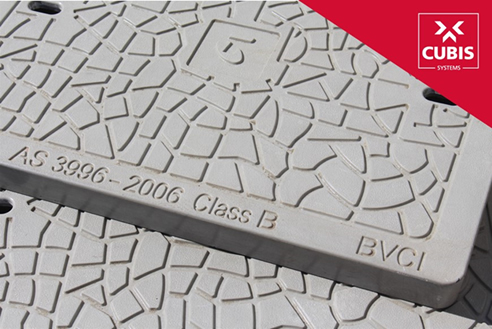 The New Industry Standard
The environment in which network access products are being installed is continuously changing.
Footpaths are no longer strictly accessed by pedestrians and cyclists only, with light vehicles now using these very pathways for site access and off-street parking also. As an industry leader, CUBIS identified a more robust solution was needed to provide sustainable network access systems across the country.
With more than 30 years of product knowledge and excellence, CUBIS' in-house engineering specialists combined the latest in innovation technology to deliver an Australian first.
The P5 and P6-8-9 Composite Pit Covers have set the new industry standard with installations across Australia's major telecommunications networks.
The most notable features of the Composite Covers include:
Increased strength from Class A to Class B against AS 3996 standard
Lightweight to meet OH&S requirements - under 20kg (P5) and under 25kgs (P6-8-9)
UV Stabilized - the product does not lose strength or slip resistance due to extended exposure to extreme UV
Highest slip resistant rating against AS 4586
Abrasion - wears at 50% rate of concrete
No moisture absorption
Will not float
Can be found with a metal detector if required
Telstra approved
Customised branding available