Introducing Linear LED Clothes Hangers by Brightgreen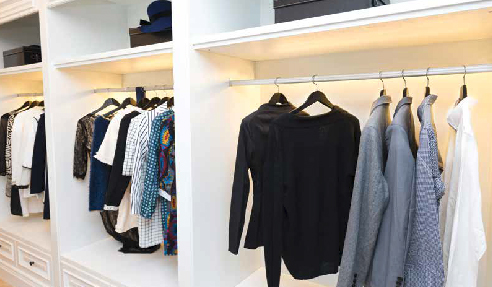 Brightgreen introduce its first design for apparel-the CH15 Linear LED clothes hanger
Australian LED lighting company Brightgreen are excited to announce the release of their first LED designed for clothing.
The CH15 Linear LED clothes hanger is designed to illuminate proven Tru-Colour lighting onto clothing to provide consistent lighting distribution and more natural colours, making clothing comparisons and decisions easy. The difference in appearance is truly stunning.
A slimline profile means that the LED can be placed close to clothing, as opposed to being overhead-resulting in 90% less glare than other lighting solutions creating immediate viewing comfort for any application.
CH15 is also completely automatic-thanks to powerful and efficient optical sensors, the LED magically turns on every time a wardrobe is opened and turns off when your wardrobe is closed. A linear design also ensures that clothing is uniformly illuminated beneath the CH15 Linear LED. Forget about inconsistent dark areas created by spotlights, the effect is profound.
Applications for the Linear LED product include both wardrobes at home and in hotel rooms, as well as clothing stores so that clothes can be shown in their truest colour.
I'm getting in touch today because we're launching the D900 S Curve next week and I thought I'd give you a sneak peek before we release it to the public.
We're really excited to launch this product and think it will become one of the flagship designs in our range.
About Brightgreen
Brightgreen is a premium LED lighting technology company that disrupts current business models by defying planned obsolescence. Each Brightgreen design enhances the experience of architectural spaces by providing long-lasting, energy-efficient LED illumination with Tru-Colour™ Technology.
Brightgreen is a certified B Corporation and meets rigorous standards of social and environmental performance, transparency and accountability.
For further information, visit www.brightgreen.com today.