Hydrostatic Waterproof Liquid from Masonry Waterproofing Systems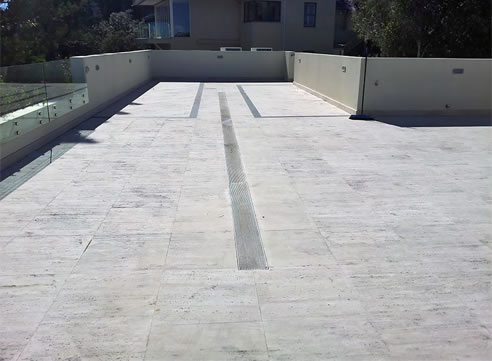 EVO-SEAL - Penetrates up to 100mm. It is transparent, water based static/hydrostatic waterproof liquid impregnate tested to 4 bar (60psi). It is also Non toxic, non-caustic, non-flammable, inorganic polyester polymer formulation.
Evo-Seal waterproofs, eliminates rising damp, insulates, hardens and preserves concrete, plaster, mortar and most natural stone permanently.
Causes a chemical reaction that solidifies the component parts of pre-cast block, masonry, concrete and cement mortars into a single mass making it waterproof, resistant to acid, oil, fuels, fats and grease. Will stop dusting, brick fretting, cracking, seepage as it increases the density of the substrate, inc2reases wear capability. Prevents efflorescence.
APPLICATION FIELDS:
All old or new concrete, bricks, blocks, plastering/render and masonry construction.
Concrete floors, walls, terrazzo and most natural stone. Above or below ground.
Historical monuments, public buildings and new or old constructions affected by pollution.
Roads, tunnels, decks, dams, subways, basements, swimming pools.
ADVANTAGES:
Suitable over weak and old substrates.
Prevents saponification of paints, does not contain oils or solvents. Prevents blistering.
Safe for users and adjacent areas, it does not require special protection equipment.
Non-corrosive, non-toxic and non-flammable.
Environmentally friendly. Saves hazardous classified materials transportation cost.
Problem free bond for paint, floor coverings.
Will NOT harm glass, tiles or aluminium.
Permanently waterproofs and preserves.
SURFACE PREPARATION:
- Fill all holes and cracks
- Clean the surface to be treated to remove dust, grease, salts, or unsound particles and loose or cracked paint, to optimize the penetration of EVO-SEAL.
- Use EVO-SALTAWAY if salts are detected.
APPLICATION:
Apply EVO-SEAL by low-pressure spray operating at no more than 20 psi, back-pack or hand-spray ensuring a uniform and homogeneous coverage starting at the top and working across the surface and gradually working downwards. It is essential to saturate the substrate. Allow EVO-SEAL to cure and penetrate for a period of about 12-24 hours.
Masonry Waterproofing Systems Pty Ltd Profile
1800 539 339
PO Box 139, Riverwood, NSW, 2210.