Modular Duct and Troughing System from CUBIS Systems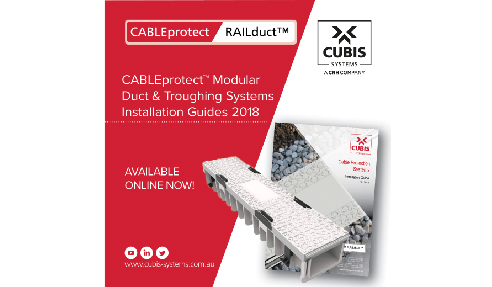 The final additions to Cubis Systems 2018 Installation Guidelines are now available, with the CABLEprotect RAILduct™, MM RAILduct™, and MULTIduct™ systems taking centre-stage.
The CABLEprotect RAILduct™ system is a lightweight cable trough solution, providing a simple and secure modular cable management system for trackside reticulation requirements. RAILduct™ is a part of the CABLEprotect product range, manufactured and tested by Cubis Systems as a proven plastic cable trough solution. Recommended worldwide, RAILduct™ has been installed across numerous rail infrastructure projects providing a modern alternative to traditional and bulky concrete cable troughing.
Boasting fire retardancy, a high strength to weight ratio and chemical resistance, the CABLEprotect MM RAILduct™ is also fitted with a tamper-proof locking system to ensure optimal network access protection. The MM RAILduct™ system is installed by connecting one (1) metre long sections with jointing pegs, allowing rapid installation and 1-3° movement flexibility to gently follow curves in the track.
The CABLEprotect MULTIduct™ range is a strong yet incredibly lightweight multiple duct system offering an innovative and simple solution for cable organisation across the underground and above ground networks. The MULTIduct™ range is designed to provide a robust, secure installation solution for the time-sensitive requirements of rail, road, power, energy and telecommunications markets. With an extensive range of cable management options available, the MULTIduct™ system offers a variety of duct accessories to seamlessly connect with Cubis' STAKKAbox™ network access pit range.
View and download the 2018 CABLEprotect product range installation guides today by visiting the 'Cubis Resources' page on their official website: www.cubis-systems.com.au.
For further information about CABLEprotect duct and troughing systems, please visit www.cubis-systems.com.