DesignBUILD 2-4 April 2014 Melbourne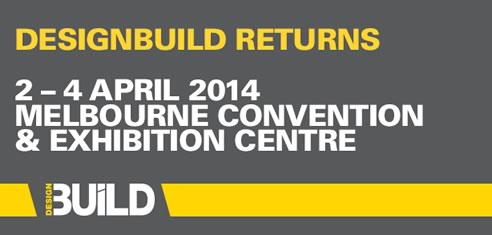 Design, build and construction exhibitors
sign on to the industry's largest dedicated trade event
DesignBUILD 2014 is officially off to a strong start with exhibitors and sponsors already signed to showcase a huge variety of innovations to the industry, with the show opening at the Melbourne Convention and Exhibition Centre, 2 - 4 April, 2014.
Exhibition Manager Chris May said many exhibitors had signed on after the success experienced at DesignBUILD Sydney this year, realising the opportunity to present their products, applications, tools and equipment to the Melbourne market.
"DesignBUILD continues to gain momentum year on year as we attract more visitors with our improved features, dedicated tradie and professional zones, innovative exhibitors, inspiring speakers and informative workshops," he said.
DesignBUILD is Australia's largest and most comprehensive trade-only industry event, attracting hundreds of exhibitors and thousands of industry visitors each year. The show rotates biannually between Sydney and Melbourne. According to Mr May, DesignBUILD continues to grow in popularity with its easy to navigate floorplan and relevant industry zones and features.
"We know trades and professionals are time poor but we also know that they want access to the latest industry innovations, information, equipment and ideas, so we plan the exhibitor floorplan in conjunction with industry experts to ensure it's easy to navigate to key areas of interest.
"We also work alongside leading industry organisations to offer seminars and workshops with content that captures the industry's current needs and demands for accurate and reliable information, so that we can create a one stop shop for all the design, building and construction industry trades and professionals," he said.
In 2014, DesignBUILD will showcase a range of features and exhibitors including:
"Project Next" - Fresh from delivering the hugely successful Future Living by Cameron Rosen feature at DesignBUILD in Sydney, Project Next has been created to demonstrate the real-world tangible application of sustainable building products, systems, solutions and techniques, in an interactive environment.
An engaging and relevant seminar and workshop series, as well as the return of visitor favourite, Innovation Alley
Tradies can also see, try and buy the best new tools on the market with leading exhibitors on show including Malco Products and JD Power Machine Tools
Australian and international kitchen, bathroom, floor, door, wall and window products will be presented by leading companies including:

- ASKIN - A world leader in building systems and solutions, with integrated insulated panel systems, insulated doors and related building products. ASKIN is recognised throughout the construction industry for its commitment to innovation, design, quality and technical expertise. www.askin.net.au

- Viega - The company specialises in installation technology and in addition to pipe systems, Viega also produces pre-wall and drainage technology. The range includes 17,000 products suitable for almost all applications: for building systems technology as well as the utilities supply sector or industrial plant and shipbuilding. www.viega.com.au

- Schueco - Schueco provides state of the art window and facade technology, as well as efficient solar solutions for all market sectors, from private homes to commercial and industrial projects. Schueco systems meet the requirements of energy efficiency, security, comfort and design, which conform to the most demanding and exacting quality standards. www.schueco.com.au

- Deceuninck - Based on core technologies of PVC extrusion and patented Twinson material, Deceuninck helps build a sustainable home with innovative building solutions for windows & doors, outdoor living, roofline & cladding, and interior. www.deceuninck.com.au
Registration opens in mid-November and attendance remains free for trades and professionals who register online prior to opening. For more information, visit www.designbuildexpo.com.au or call 02 9275 9218.