STAKKAbox™ Fortress - Modular Cable Pit System from CUBIS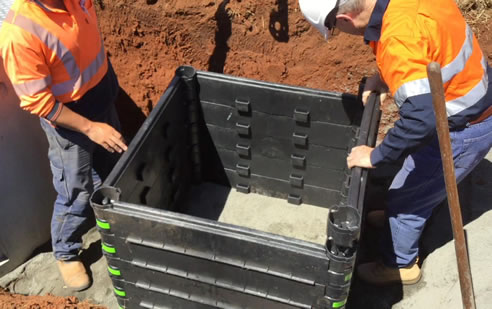 CUBIS Systems has long been a market leader in pre-cast concrete pits, using their expertise and quality assurance to provide only the highest standard of products to their customers.
But CUBIS Systems have now gone one step further providing a lightweight modular solution without compromising on strength. Introducing the Fortress™, forming part of the STAKKAbox™ range, this structural preformed cable pit is suitable for use in both Rail and footway environments.
In addition to its innovative lightweight structure, the Fortress™ is an ideal alternative to the traditional Class B load rating BVCI™ pre-cast concrete product. Regional projects benefit tremendously from the Fortress™ due to its compact freighting ability, elimination of heavy machine lifting and ease of installation. Not only can the Fortress™ be assembled simply by 1 person, the quick installation process saves both time and money.
The Fortress™ will be on display at the AusRAIL 2016 Conference and Exhibition in Adelaide during the 22nd-23rd November. Our CUBIS Systems Specialists will be showcasing a range of products providing innovative and effective solutions to the Rail Industry. Visit us at Stall #42 to receive the latest product information and entry into our 'Getaway Competition'.
For more information on the Fortress visit www.cubis-systems.com/au/.