Custom Electrical Access Pits from CUBIS Systems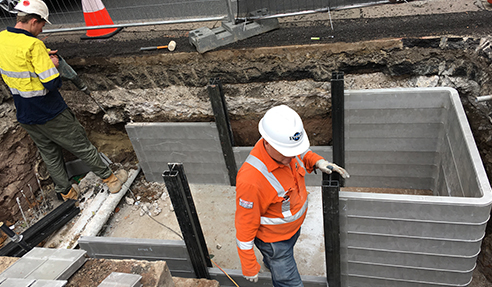 CBD Electrical Services Relocation Project | STAKKAbox™ ULTIMA Hybrid
Located along Pitt Street in the middle of Sydney's Central Business District, Cubis worked closely with the lead contractor and project management team to provide an innovative access pit solution to meet the requirements of the customised installation.
Project Challenges
Full details surrounding existing services unknown
Minimal time-frame for site to remain 'in construction' phase
CBD location within close proximity to heavy vehicle and pedestrian traffic
In order to locate all existing services, the client requested a full excavation of the site prior to specifying the final shape and dimensions of the required jointing bays.
With the site location situated within a heavily congested business district of the city, elimination of any possible safety risks to the public was of the upmost importance and underpinned all aspects of the installation.
To read the full case study and how Cubis' STAKKAbox™ ULTIMA Hybrid system overcame the project challenges click here.