Rendering with JPS Coatings Patch 'Em-Up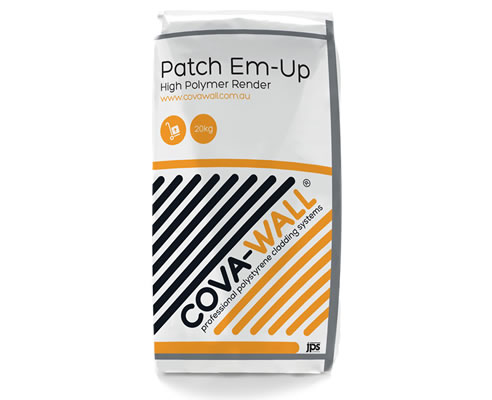 Patch 'Em Up is an acrylic modified render from JPS Coatings offering a high-performing water resistant external plastering product. It is made with a carefully controlled formulation of washed silica, sand, cement and various powder additives to achieve excellent adhesion essential in plastering applications.
JPS Coatings uses specialised equipment to process raw materials for their signature Patch 'Em Up dry mix render. This method of production ensures an accurate mixture of rendering components to produce high build materials. Patch 'Em Up acrylic modified render meets the standards set by AS 3972 (General Purpose and Blended Cements) and is ideal to use on external and internal surfaces.
How to Apply JPS Coatings Patch 'Em Up:
A. Surface Preparation
1. To maximise the excellent adhesive quality of Patch 'Em Up, make sure that the working area is free of dirt, grime, dust, powdery residue, and other oily substances that might hinder its adhesion.
2. Ensure that the area is dry prior to application.
3. While waiting for the area to dry completely, prepare all the necessary equipment to be used in the application of the product.
B. Mixing of Product
1. Patch 'Em Up is available in a 20 kg bag. Pour the contents into a dry and clean container. Mix one bag (20 kg) of Patch 'Em Up with 5 to 5.3 1/2 litres of clean water.
2. Using a power stirrer or a similar mixing device, stir the mixture thoroughly until the desired lump-free consistency is achieved.
3. Added water must not exceed 5.5 litres per one bag (20 kg) of Patch 'Em Up. Excessive water volume might result in surface crazing, delaminating and cracking.