Achieving Outdoor Landscape Design with DesignBUILD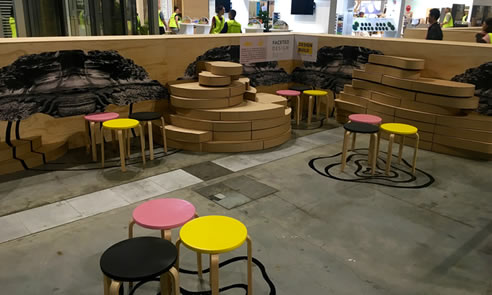 DesignBUILD RAW 2017 was a congregation of innovative outdoor landscape design projects from budding industry experts within the academe. Held last May 3-5, the collaborative project invited students from the University of Sydney (USYD), the University of New South Wales (UNSW), and the University of Technology Sydney (UTS).
Sustainable Outdoor Landscape Design Projects at DesignBUILD RAW 2017
UNSW took home the award for the best design of the DesignBUILD central hub space. The students - Maia Guppy-Hall, Kimberley Willis Mitchell, Jose Siccion and Amira Shammo - harnessed the sustainable properties of cardboard to achieve the critically acclaimed 'Faceted' design.
The 'Faceted' team took a modular approach to design which emulated the form of sandstone, one of the most prominent elements of Sydney's landscape. According to Guppy-Hall, the team conceived the project in response to Innovation, one of the DesignBUILD pillars. She added, "Our design responds to the ways in which the materials, such as cardboard, can be used to emulate the appearance of sandstone in a modular and more engineered way. By doing so, we're using really common and recyclable materials in a way that's kind of diversified."
'Faceted' was inspired by the sandstone formation on the coastal line of the suburb of Barangaroo in Sydney. The students observed the Barangaroo landscape to further understand how sandstone can be modularly engineered and repurposed into design pieces that bear an uncanny resemblance to the face of the coastal line. The 'Faceted' team also found inspiration during a visit to an Aesop store along Flinders Street in Melbourne. This case study helped the students in polishing the cascading design of stacked cardboard as internal walls shaped like sandstone, rock and the curvature of naturally occurring cliff faces.