Polymer Render for Fibre Cement Sheeting by JPS Coatings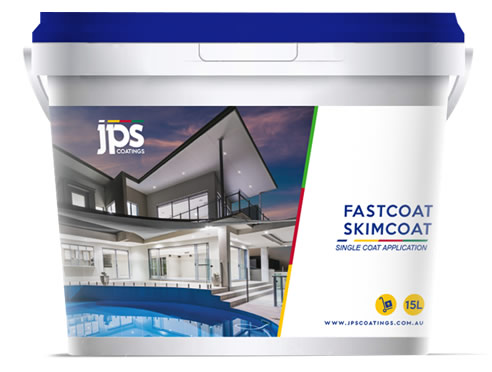 Fastcoat Skimcoat is a specially formulated product by JPS Coatings from their comprehensive range of polymer render coatings. It is used as a skimcoat over flush jointed blockwork and fibre cement sheeting. Fastcoat Skimcoat adheres to any clean masonry substrate. Unlike sand and cement, it can be overcoated the next day with suitable paint and texture coating systems.
Applying Fastcoat Skimcoat Polymer Render Coatings
Fastcoat Skimcoat is available in one (1) 15L pail with a spreading rate of 0.9 sq. metres per litre, depending on the method and conditions of applications. It can be applied in three, easy stages:
1. Surface Preparation: Ensure the substrate is clean, dry, structurally sound and free of all contaminants, including oils, grease, dust, dirt, release agents and other foreign matter that may break bondage. Remove any nails, steel and tire wires on the surface. All other metal objects must be stabilised against corrosion. At the time of coating, ensure the moisture wood equivalent in the surface is at 15% for optimum coating performance. This surface condition is most suitable to receive the texture coating. To reduce suction especially in hot weather, temper the substrate with water. Use Tex-Bond to pre-prime very absorbent or friable surfaces.