Mould Prevention Biocide with Evolving Elements Roof Coatings by JPS Coatings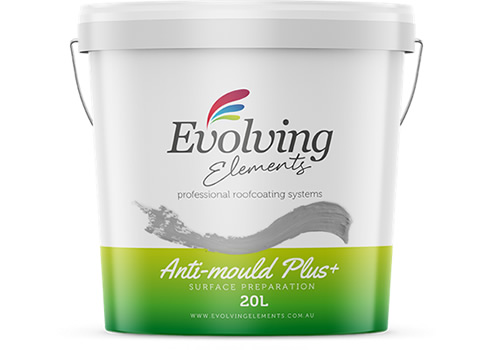 JPS Coatings has specially formulated a complete set of components and procedures for a high-grade roof coating system, including primer, mould prevention biocide and level coat solutions. Designed by Australians for Australian conditions, the brand new Evolving Elements range promises a pristine finish whether for new substrates or old roofs for restoration.
Mould Prevention Biocide from Evolving Elements
Evolving Elements Anti-Mould Plus+ is specifically designed to help remove moss, lichen and minor deposits of grease and oil. After removal of foreign substances, the broad spectrum biocide inhibits the proliferation of moss and lichen in the long run. The high grade solution is water based to ensure user safety and workability. Applied after pressure cleaning, Evolving Elements Anti-Mould Plus+ makes subsequent coatings more stable and effective.
How to Apply Evolving Elements Anti-Mould Plus+
Evolving Elements Anti-Mould Plus+ is highly recommended as part of a comprehensive roof coating system for unglazed terracotta tiles, as well as concrete tiles and fibre cement roofs. The solution is also suitable for use on cutting-edge Colorbond® steel, integrated with advanced paint technology for a durable, baked-on paint finish that combats cracking, chipping and peeling.