Surface Restoration with Professional Roof Coating Systems from JPS Coatings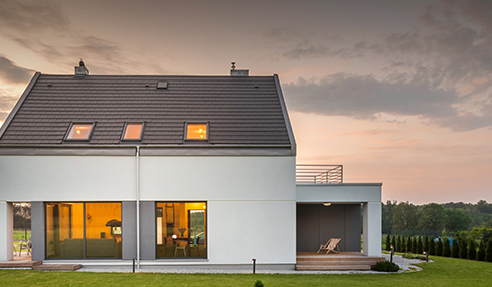 JPS Coatings has innovated a complete range of professional roof coating systems particularly to restore aged roof surfaces to their former colour, or to a new and modern shade. Strengths include versatile and highly functional coating products perfect for different kinds of roof systems like Zincalume® & galvanised iron roofs, unglazed terracotta or concrete tiles, Colorbond™, and fibre cement.
From surface preparation to top coats, JPS Coatings has everything covered.
Surface Preparation
Anti-Mould Plus+ - A broad spectrum and water-based biocide that inhibits the growth of roof moss and lichen that are not only unsightly but damaging. This professional roof coating system is typically applied on cleaned unglazed terracotta roofs or cement using airless or HVLP spray, roller, brush, or pad.
Premclean - A detergent-based surface coating that effectively removes roof-degrading substances like grease and oil. It also prevents the growth of moss and lichens and allows for a faster pressure cleaning system. Premclean is typically applied on surfaces with a high percentage of fungal growth like fibre cement or terracotta roofing tiles, and ceramic tiles.
Rustcure - An integrated formulation that removes light rust from metal roof sheetings and creates a reliable barrier against corrosion. Upon application, oil, grease, and toxic chemicals are effectively eradicated to secure adhesion of the primer coat.
Water-Based Primer Coats
Levelcoat - Formulated to seal and prime concrete roof tiles to level. Under primer coats, this professional roof coating system enables a seamless and even surface, which improves topcoat adhesion and roof appearance.
Primecrete - Highly recommended on chalky or dusty roof surfaces like concrete and unglazed terracotta roof tiles. Through excellent penetrating plus binding properties, Primecrete thoroughly permeates tile surfaces if it's chalky or porous.
Surface Prime Plus+ - A reliable and durable primer with effective rust inhibitors and passivation, adhesion promoters, and inert fillers. Designed particularly for bare metal surfaces like Zincalume® galvanised iron roofs.
Acrylic-based Top Coats
Durapoint - A pre-coloured acrylic pointing compound used with hip and ridge roof tile, a convenient alternative to traditional cement and sand-based pointing mortar. It remains strong and crack resistant, and flexes with movement caused by varying weather conditions.
Duramembrane - A perfect top coat choice when it comes to resisting Australian and South East Asian weather. Not only does it restore the old roof but also provides optimum protection against weather extremities and growth of unwanted mould and lichens. Available in a range of excellent colour choices with an outstanding gloss finish.
Terraglaze Plus+ - An acrylic roof membrane for vibrant gloss roof finish. Typically utilised to provide a clear or coloured coating for old and worn-out unglazed terracotta roofs. It effectively resists weather extremities and has a low dirt pick-up for minimal upkeep.
Head on over to www.jpscoatings.com.au for more information on Professional Roof Coating System.