Interior stone walls with CraftStone from Austech External Building Products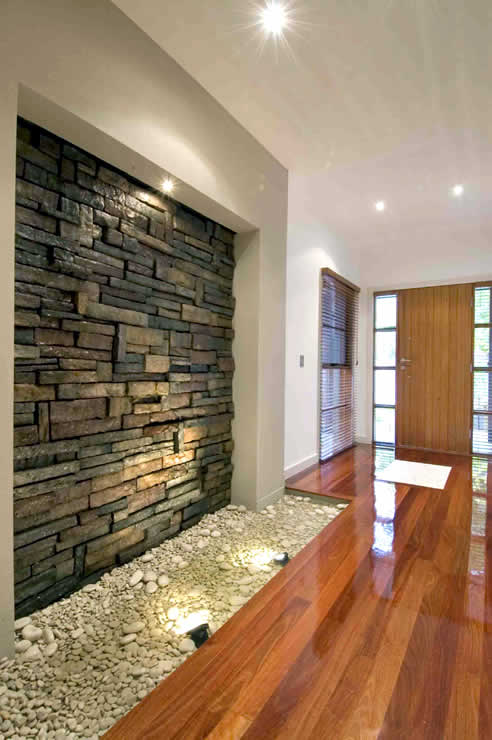 CraftStone is often used on exterior walls as stone wall cladding, but is now increasingly being used in interior design to create feature walls and focal points inside homes and businesses.
CraftStone is a manufactured stone. It is recommended for work in interiors because of its light weight structure and quick installation. CraftStone therefore often does not need any extra structural support associated with heavier real stone products, reducing costs and construction time.
The biggest benefit of manufactured stone is the range. Austech carries over 40 different styles and colours of stone. Now when planning an interior stone wall, you can plan the wall around your design, not plan your design around the wall.
Internal applications of CraftStone include pillars, wall features, fireplaces, chimneys and kitchens. Manufactured stone is inherently versatile, and can be adapted to most environments.
Manufactured stone is also not vulnerable to fire or heat, making it the best choice for fireplaces or chimneys. CraftStone can be used in new construction, but is also ideal for renovating old fireplaces, as it can be easily attached to existing brickwork.
CraftStone is much simpler and quicker to install than traditional stone. It comes in both flat stones and stone corners, so almost any area can be clad with CraftStone.
Traditional stone requires laborious craftsmanship, this takes time and is a premium cost, often costing more than the stone itself. CraftStone is designed to be placed on a wall, and can be even be installed by someone experienced in DIY. Quick and easy installation not only saves money, but also reduces the time of a distributive renovation.