Stone Landscaping Features for Pools from CraftStone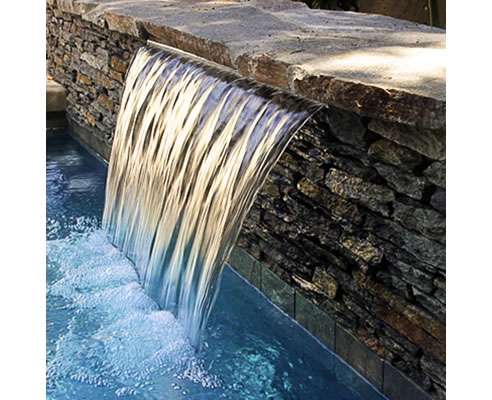 Give your Pool a Luxury Resort feel with Craftstone!
Winter is the perfect time to finish the landscaping around your pool or give it a fresh new update! So you and your family can relax around your pool in the warmer months.
We have all seen those amazing stone featured walls and beautiful stone fountains in luxury resorts, hotels and health centres. Austech and their range of Craftstone can help you create an identical stylish appearance in your own home. Craftstone has been commonly used for indoor projects but is now becoming increasingly popular in outdoor applications such as pool features, waterfalls, outdoor bars and entertaining areas.
The lightweight nature of Craftstone makes this product ideal for the use in pool features/ waterfalls as there is no need for costly structural support. Craftstone is substantially cheaper, often half the price of natural stone. As well are being exceptionally durable and maintenance free, making it ideal for exterior designing around the pool area.
A stunning stone feature wall or fountain can add value and an aesthetically pleasing appearance to your pool area. The simplicity and elegance of Craftstone enables you to enjoy the unique feeling and homely ambience of nature, while providing a wide design space and imagination.
Craftstone comes in varying colours and textures to suit any design, and all products come with a 25 year limited warranty, so you can be assured that the manufactured stone is of the highest quality.
Download the Craftstone Project Brochure to view a number of successful installations of the product and the different alternatives in which it can be applied. You can also contact the team at Austech. With offices all around Australia, we can assist you in creating your ideal project.