CraftStone Fireplace from Austech Building Products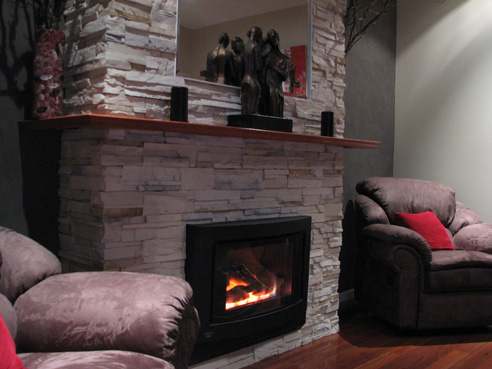 With winter on the way, many people are looking at the different options to keep their home's warm. So why not add style and elegance with a fireplace made from the eye-catching CraftStone. Exclusively available through Austech in a range of colours and textures, CraftStone allows you to create your dream fireplace including all the benefits of natural stone, minus the hefty price tag.
CraftStone has already been chosen as the preferred product in many fireplace applications so far. The stone product has a wide range of other applications in new constructions and renovations. As well as fireplace's, it is excellent for stone walls, as a architectural element, an alternative for external feature walls, and also interior feature walls and entries. "We offer many textures and colours and meet over a dozen of the strictest code requirements, which give users a vast array of design options," said Billy O'Neill, Marketing Coordinator of Austech External Building Products. "When you combine such quality and choice, you're going to have a winning product."
Austech Building Products have unveiled a new display at their head office in Blacktown, showcasing CraftStone. The external display can be viewed every day, with an internal display also available during office hours. For further information on CraftStone and the wide range of products available please visit Austech.