Stacked Ledgestone CraftStone Feature Wall at Subway by Austech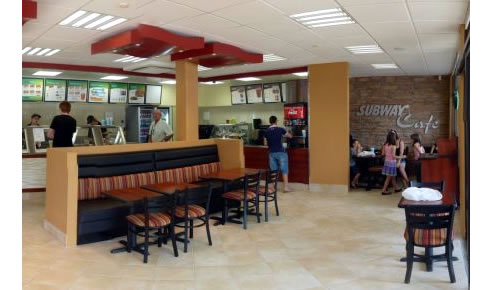 Subway Food Chain Use Austech Building Products' CraftStone
With 35,000 restaurants in 98 countries and territories the Subway food chain has been one of the fastest growing franchises in the world of late. Austech Building Products delivered one of it's highly sought after products, CraftStone, to Subway in Ballina, Northern NSW. An eye-catching feature wall was created using around 6m2 of Stacked Ledgestone Sunset from the CraftStone range. Subway is just another supreme international company that have elected to use CraftStone in Australia as the innovative lightweight replica looks and feels like the real thing - without the price tag.
As the numbers continue to roll through to door at the Ballina outlet, the CraftStone feature wall has sparked interest amongst the public and finishes off the interior design with a touch of elegance. CraftStone is readily available Australia wide by Austech Building Products. Visit the Austech website to contact your nearest office. There are a variety of profiles and colours to choose from in the CraftStone Range to suit existing or new constructions.
CraftStone comes with a 25 year warranty so you can rest assured knowing you've purchased quality. Stacked stone, chosen by Subway, is one of the best ways to ornament a home without breaking the bank. To pull this off, stone cladding, a contemporary method used by many architects is used to add vibrance to a lifeless structure. Builders stack these stones to recreate nature's natural stone walls seen in waterfalls and cliffs. Stacked stones are generally used for aesthetic purposes but they are also known to be able to last a long time.
To include CraftStone into your next project, whether it is residential or commercial, just make an enquiry to the team at Austech. You can also view locations where CraftStone has been installed at the Austech website.