CraftStone Feature Wall at Nandos from Austech Building Products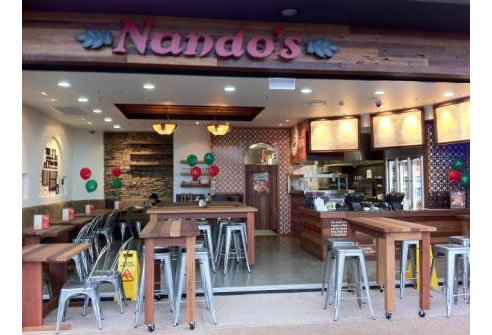 Austech Building Products' CraftStone Chosen for New Nandos Store
Nandos has around 300 stores across Australia and is fair to say the company is one of the fastest growing franchises throughout the nation. Newstead in Brisbane became another dot on the map for the Nandos group, as a brand new store was opened in the area. Food Strategy, the specialists in architectural design for hospitality and retail outlets, then teamed up with Nandos. Food Strategy offers their services across Australia and New Zealand and this time were required in Brisbane to piece together the appealing internal aesthetics of the new Nandos outlet. CraftStone was selected from the Austech Building Products range to be used as a feature wall. Around 12m2 of CraftStone Mountain Ledgestone Cabernet was as applied to the franchise store.
Mountain Ledgestone Cabernet is amongst the many colour and profile varieties available in the CraftStone range. Available Australia wide through Austech, the manufactured stone veneer captures the appeal and essence of natural stone and can be adapted to both interior and exterior applications. The quality of CraftStone is highlighted by the fact that it comes with a 25 year warranty whether it be used inside or outdoors. One of the most advantageous features of CraftStone is the unique corner system that eradicates untidy mitre joints, resulting in an exceptional finish.
To learn more about CraftStone and how it can be applied to your next project visit the Austech Building Products website. Used in a number of commercial sites, Austech have supplied CraftStone throughout Australia to numerous residential jobs to be used as feature walls, fireplaces, chimneys, columns, pillars, retaining walls, water features, around pools and more.
With offices across Australia, you can contact Austech Building Products to enquire about CraftStone or simply visit the Austech website to learn more about the quality building products available.