CraftStone Feature Walls at Anytime Fitness Outlets from Austech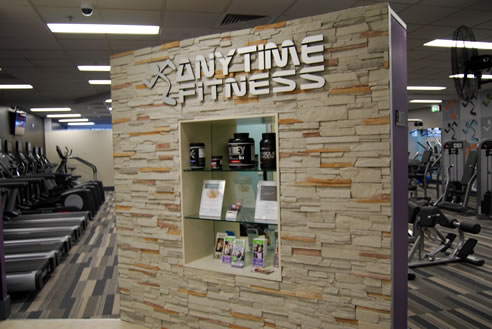 Anytime Fitness apply CraftStone to a number of
outlets throughout Australia
Anytime fitness, the universal fitness franchise has selected CraftStone to be fitted as a feature wall to a number of its outlets throughout Australia. There are now around 70 clubs Australia wide in just the two years the franchise has been operating in the country. This is not the first time CraftStone has been preferred by a high profile company. Austech Building Products supplied the fitness chain with different blends of CraftStone in an attempt to revamp and redesign many of their Australian stores.
The CraftStone range offers many different colours, textures and profiles including a unique corner system that eradicates untidy mitre joints. Chosen for the project were the Ocean Mist and Mocha blends from the Vintage Ledgestone series. Austech were delighted to partner with one of Australia's fast growing businesses in supplying them a product of the highest quality, adding to the list of satisfied customer of Austech.
So why not use CraftStone in your next project? With the elegance and beauty of natural stone, this product can be applied to a number of situations, from an interior feature wall, fireplace, columns or even water features to name a few. Its lightweight nature allows for ease of installation and unique corner pieces eliminate the replica look that many alternate manufactured stones have.
Although Austech have supplied CraftStone to a number of large commercial projects, CraftStone is extremely popular amongst home owners as applying the product adds value and appeal. View some previous projects or visit a site near you that will demonstrate real life applications of the product. Learn more about Austech and its products. The Austech Online Shop is also a great place to secure a bargain with many of its products on sale today.