Lightweight Decorative Stone Walls with CraftStone by Austech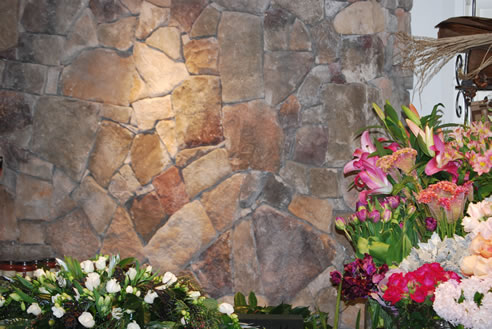 Austech's CraftStone Chosen For Alfresco Emporiums Flagship Store
Alfresco Emporium is well known for its stylish and sophisticated home wears, so when they designed their flagship store in Collaroy, it had to have the WOW factor. They chose a large internal stone feature wall of CraftStone to draw attention into their store and improve an otherwise boring space.
CraftStone is a manmade stone, created from thousands of individual moulds. CraftStone is designed to be a lightweight alternative to traditional stone, so it requires less structural support and is much quicker and cheaper to install, making it ideal for retail fit-outs.
Alfresco Emporium's Collaroy store is designed to showcase the latest innovations in home and kitchenware, and even has a fully working kitchen for cooking displays, a children's play area and a reading lounge.
Dressed Fieldstone in Chardonnay was chosen for its large individual stones and its earthy tones. The stone feature wall is a fantastic background to their extensive range of fresh flowers, creating natural backdrop to showcase their products.
The owners of Alfresco Emporium get regular enquiries about their fantastic feature wall from customers wanting to re-create the feature wall in their own home.
CraftStone looks great inside, but it can also be used effectively outside to create feature walls and columns. Austech External Building Products stocks a wide variety of stone profiles and colours, contact us for your nearest display location and more information.