CraftStone used in Luxury Display Home from Austech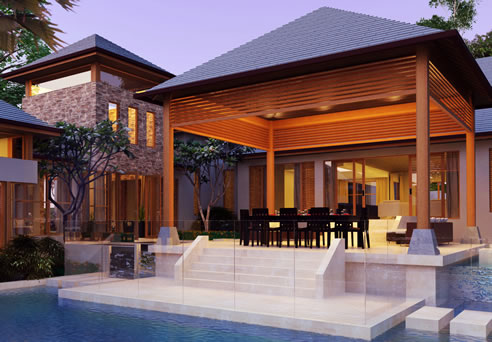 CraftStone From Austech Chosen For Australians Largest Luxury Display Home.
Brentnall Homes is in the process of building their new display home, the 'Inspirations' in the prestigious Huntington Downs Estate, near Oxenford on the Gold Coast. Built on a 4000m2 block, this stunning home wraps around a central alfresco dining area and resort style pool.
This highly anticipated home has already been featured in the "Queensland Homes" Annual Gold Edition and in "Build Home" Magazine. The 'Inspirations' is set to win many industry awards and become an inspiration to the luxury house market in 2010 and beyond.
In total, 116m2 of flat stone and 181m of corners here used inside and outside the house. CraftStone was used for multiple different applications, including fireplaces, feature walls, pillars and focal points. CraftStone's versatility means it can be used in many situations. In a project like this, CraftStone acted as an anchor, drawing different areas together and providing unity.
This Balinese inspired home blurs the lines between inside and outside. The home is split into many unique sections, all with stunning views. The home is filled extensively with high quality and natural materials, including exposed wooden beams, huge stone bench tops, contemporary render finishes and Austech's CraftStone wall cladding in Dressed Fieldstone & Country Ledgestone.
The 'Inspirations' is designed to be green without sacrificing comfort. The design incorporates solar panels and underground water storage tanks to water the extensive gardens. CraftStone contributes to its green design through its recycled content, reducing waste sent to landfills. Its lightweight design also means it's easier to transport and quicker to install.
The master bedroom is the homes most stunning room, with soaring coffer ceilings, gigantic wooden four poster bed and immense CraftStone feature wall, with sunken fireplace and flat screen TV.