Surface Mounted LED Lighting from Brightgreen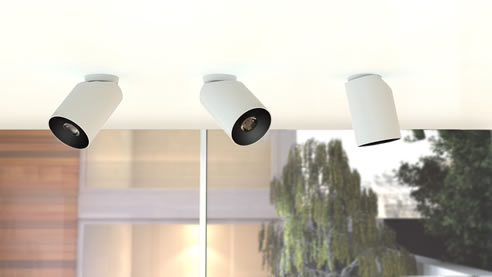 Tight beams for precision lighting
Brightgreen reveals 2 new Surface Series LEDs
Australian LED technology company Brightgreen launches two new additions to its popular Surface Series range of interior lights.
The D550 SHX Curve downlight and T550 H Curve track light expand upon the company's Curve range of surface-mounted LEDs, providing flexible track and surface-mounted luminaires for areas that require precision lighting.
Featuring directional, rather than diffused beams, both of the new fittings provide the ability to design with light, rather than simply wash spaces with uniform illumination as is common with diffused alternatives. Projecting 550 lumens at a 36° angle, the tighter beam and smaller body of the D550 SHX Curve and T550 H Curve make them the ideal accompaniment for the larger 900-lumen lights in the range.
Key features of the D550 SHX Curve and T550 H Curve include:
Tru-Colour technology - enhancing the appearance of interior surfaces and colours
Dual-axes adjustments - with a 355° body rotation and 90° angle tilt using a constant friction hinge
Advanced performance with leading dimmers and control systems
36° directional beam for precision illumination
Durable pure aluminium body available in black and white finishes
70,000hr lifetime backed by a 7-year warranty
3000K warm white and 4000K neutral colour temperature options
Get more information on the D550 SHX Curve downlight and the T550 H Curve track light.