Cementitious External Rendering from JPS Coatings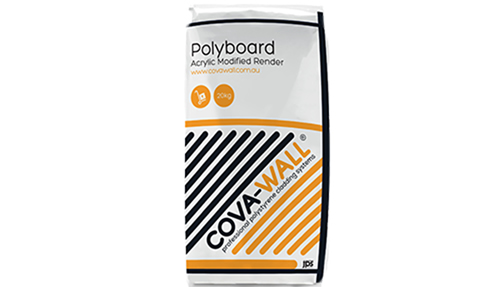 Cementitious external rendering, commonly known as cement rendering or solid plastering, is a type of rendering application, which enhances the waterproofing and fire rating features of structural walls. Aside from improving structural integrity, cementitious external rendering provides a unique wall canvas to achieve a smooth or deliberately textured wall surface.
Generally used in external applications, cementitious external rendering can also be used to enhance aesthetics, and fortify the internal wall structure.
JPS Coatings: Changing the Game for Architectural Wall Finishes
Fuelled by 29 years of experience, JPS Coatings continue to innovate and develop rendering materials to help improve Australia's built environment. Among their highly rated building products is PolyBoard Render.
PolyBoard Render is specially formulated for cementitious external rendering application on low absorbency substrates, such as Expanded Polystyrene Sheets (EPS) and pre-coated Polystyrene. The 20-kg bag contains the premixed cementitious base coat formulation of washed silica sand, cement and powder additives for enhanced adhesion and water-resistant properties.
Before applying Polyboard Render; ensure that the surface is dry, clean and free from oil, grease, chemicals, and any powdery residue that might affect adhesion.
Save valuable construction time with PolyBoard Render. Combine one bag of premixed PolyBoard Render, and 5 to 5.5L of potable water into a clean and dry bucket. With a power stirrer or any mixing device, thoroughly mix the cementitious external rendering mixture until the desired lump-free consistency is achieved.