Professional Roof Coating Systems: Evolving Elements from JPS Coatings

JPS Coatings are proud to present an extensive array of roof coating systems from Evolving Elements. Designed by Australians for Australians, the brand-new products have been enlisted to complement JPS Coatings' trusted catalogue of plastering and rendering solutions and services. JPS Coatings guarantees that all industrial, commercial and domestic applications will be treated to world-class quality: their signature since 1988.
Evolving Elements Roof Coating Systems The Evolving Elements roof coating system is comprised of all the required products and procedures in coating applications for roof substrates. Applications have continuously yielded successful results: old and aged roofs are restored, rejuvenated and sealed to match their original colours, or to a new and more contemporary colour. In addition, Evolving Elements is a flexible pointing solution for the installation of new roof tiles.
The application of the Evolving Elements roof coating system can be chronologically ordered in three stages, each with three corresponding products to get the job done.
Surface Preparation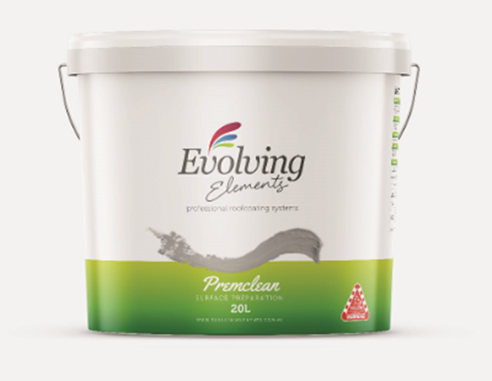 This stage lays the groundwork that will determine the outcome of the entire project. Therefore, all substrates must be clean, dry and free from foreign matter, so as to optimise the efficiency of the application. Premclean is applied before pressure cleaning to remove dirt, oil, moss and lichen effectively.