CraftStone feature walls by Austech External Building Products for Redcliffe Tavern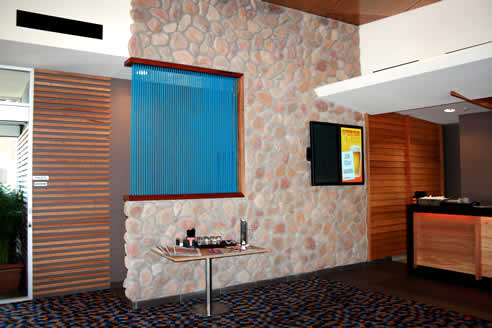 The new Redcliffe Tavern has used CraftStone for interior design on feature walls and pillars throughout the new club. The Redcliffe Tavern is located in Redcliffe, just north west of Brisbane. The tavern is designed to be modern and inviting, both to locals and tourists.
The Tavern needed to be cost effective, so CraftStone was chosen for its unique look but affordable price. In addition, installation is also cheaper. Manufactured stone requires less structural support and is quicker to install than traditional stone, saving the Tavern thousands of dollars.
Redcliffe Tavern wanted minimise its environmental impact by sourcing products that benefit the environment. Cultured Stone is committed to the environment, with 20% of its product being made from recycled materials and a commitment to reduce water consumption and waste sent to landfills.
Earth Blend River Rock was used thought-out the interior. River Rock was chosen for its unique shapes and earthly feel, which ties in with the local costal environment.
Scott Follent from Austech Queensland has said, "River Rock gave the tavern a unique look found nowhere else in Brisbane. The Redcliffe Tavern is a great example of the versatility of CraftStone."
River Rock is a curved stone, with the look of tumbled boulders, smoothed by a natural river. To get real stones tumbled by nature requires removing the stones which damages native habitats, but manufactured stone causes no damage to animal habitats at all.