Cova-Wall® EIFS Cladding CodeMark™ Certified from JPS Coatings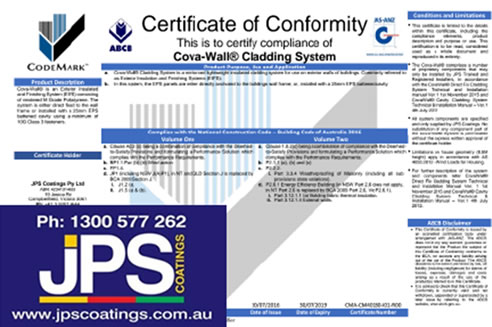 JPS Coatings Cova-Wall® Polystyrene Cladding System
Receives CodeMark™ Certification.
JPS Coatings is at the forefront of manufacture, supply, and installation of high-quality materials for the modern building and construction industry. With 37 years of experience, JPS Coatings is equipped with the expertise and product knowledge to meet the highest client expectations and specifications.
Aside from their broad spectrum of premium domestic, commercial, and industrial solid plastering and rendering products - JPS Coatings is proud to announce their Cova-Wall® Polystyrene Cladding System has received CodeMark™ accreditation!
The Cova-Wall™ Cladding System is a reinforced, insulated wall cladding system that is lightweight yet sturdy for external cladding applications. Cova-Wall™ Cladding System is commonly known as Exterior Insulation and Finishing Systems (EIFS) or polystyrene cladding.
JPS Coatings uses an "M Grade Polystyrene" that meets the standard requirement for AS 1366.3 (Rigid Cellular Plastic Sheets). The cladding system can be attached directly to the substrate or installed with a 25mm expanded polystyrene sheet battened cavity. It uses a minimum of 10G Class 3 fasteners.