Stone cladding Sydney from Austech External Building Products for Kangara Waters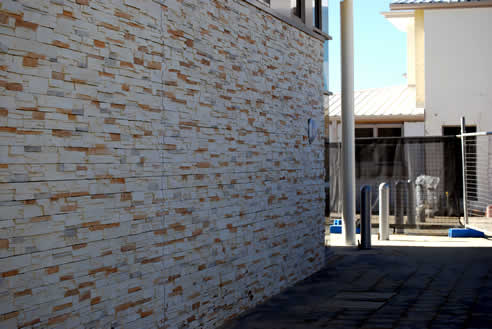 The Kangara Waters aged care facility in Belconnen ACT is nearing completion, with display apartments now open and the landscaping finished. Craft Stone wall cladding is featured prominently in the development and its surrounds, linking the project to its bushland location.
In total the development used over 120m² of Vintage Ledgestone in Alpine to clad dividing walls, exterior walls and large stone feature walls. Alpine is a very light colour that complements the open plan design for the common areas and landscape.
Craft Stone is a manufactured stone, but is created using thousands of individual moulds that are individually painted so no two stones are ever the same. This was a key consideration in picking Craft Stone since a stone was needed that could complement the natural surroundings but also help reduce the cost of materials.
Craft Stone is designed to be installed easily and quickly. This unique feature of manufactured stone saved the builder, St Hilliers Contracting, on labour costs and helped them keep to a tight construction schedule.
The main BBQ area is crucial in providing social space to residents. Craft Stone was chosen to create a natural and comfortable environment and was used to clad low walls that define the area and also provide extra seating.