Ultra-Bright LED Downlight D2000 Curve from Brightgreen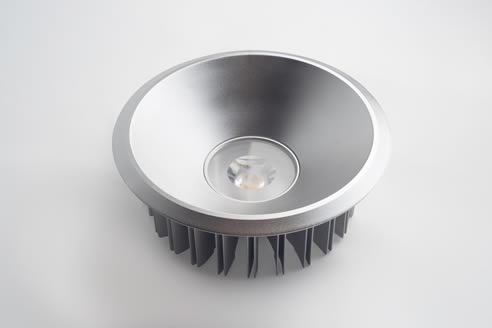 Brightgreen launches the D2000 Curve LED downlight
for superb 2000-lumen illumination
Melbourne based premium LED lighting company Brightgreen introduces the D2000 Curve LED downlight - an ultra-bright low energy alternative to compact fluorescent dual PL and PAR downlights.
In keeping with the superb efficiency, exceptional brightness and long-lasting durability of the Curve series, the D2000 Curve downlight emits 2000 lumens of light on an operating power of only 27W to give an efficacy of 74 lumens per Watt, making it one of the most efficient alternatives on the market.
The D2000 Curve has a compact heat sink integrated into its low profile form, enabling it to fit into the smallest of spaces. It comes with its own driver and an integrated GPO fitting to allow for easy installation and immediate plug-and-play use.
Designed for use in commercial premises such as retail outlets, airports and warehouses, the efficiency, durability and brightness of the D2000 Curve downlight makes it the ideal choice for spaces with high ceilings that are accessed infrequently.
Notable features include:
Compact integrated heat sink for installation in small spaces
55deg; beam angle
3000K, 4000K and 5000K (warm, neutral and cool) colour temperature options
Silver and white finish options
Efficacy of 74lm/W
CRI value of 83CRI
Product lifetime of 70,000 hours
Payback time of 1.5 years with average daily use of 10 hours
7-year warranty
For more information, visit Brightgreen.