High Performance LED Downlight D900+ from Brightgreen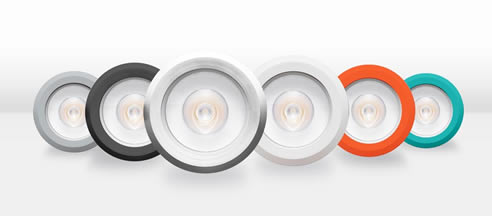 Light without limits: Brightgreen launches the D900+ downlight - the world's most enduring and adaptable high-performance LED downlight
Melbourne based premium LED lighting company Brightgreen presents the D900+ LED downlight - a high-performance energy-efficient lighting product with a unique interchangeable fascia system that ensures it will endure its 70,000-hour, 30-year lifespan.
Beginning life as an evolution of the award-winning D900 Classic downlight - the world's first 50W halogen equivalent LED downlight - the D900+ is the culmination of superior componentry, expert engineering and extensive research into the needs of today's lighting market. With a focus on ease of use, longevity and adaptability, the D900+ is the most groundbreaking addition to the Brightgreen product family to date.
The D900+ runs on just 15.6W of power, generating a maximum brightness of 1060 lumens and giving an average efficacy of 61 lumens per Watt. It is dimmer compatible, easy to install, and comes in both 45° and 55° beam angles and a colour temperature of either 3000K warm light or 5000K cool light.
The core D900+ downlight unit is trimless and can be installed without a fascia, blending seamlessly into interiors, or can be used with one of Brightgreen's interchangeable fascias - available in six colours and six forms - to create a variety of lighting effects. An easy-to-use twist-on, twist-off mechanism allows the fascia to be changed at any point in the product's life, allowing the D900+ to adapt to changing lighting needs without the need for replacement.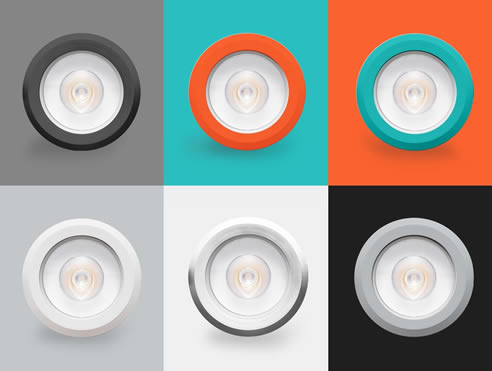 An integrated recessed universal gimballing system offers unlimited lighting versatility. Its innovative airtight form is a market first, preventing heat from escaping into roof cavities and improving building energy ratings. The luminaire of the D900+ incorporates Brightgreen's signature Tru-Colour 95CRI technology - an exceptional Colour Rendering Index rating that ensures colour, tone and detail are illuminated to their full potential.
Notable features include:
Simple twist-on, twist-off interchangeable fascia system;
A trimless design providing the option for trimless installation;
Universal gimballing that allows for tilting 30° in any direction;
Airtight form that reduces heat loss and improves building energy ratings;
Superb efficacy of 61 lumens per watt;
Exceptional light quality that incorporates Brightgreen's signature Tru-Colour 95CRI;
Recessed lens for minimal glare;
70,000 hours product lifespan;
7 years warranty for the luminaire, and 5 years warranty for the driver.
Fascia styles include:
Fineline - A narrow beveled edge that complements the exposed lens of the D900+;
Heavyweight - A broad edge for boldly defined downlighting;
Flatline - A smooth surface with minimal detailing and simple styling;
Capsule - A beam-directing fascia that creates a rounded beam of light;
Portal - A fascia that hides the luminaire and emits a focused spread of light;
Oyster - A discrete fascia for flattering, softly dispersed light.
Fascia colours include White, Silver, Black, Grey, Viridian and Hot Orange.
"When we first created the D900 Classic LED downlight, it was the world's first 50W halogen equivalent," comments Brightgreen CEO and head product designer David O'Driscoll. "At first, we couldn't see much room for improvement but after we began to analyse in detail where the limitations were, we saw the need for flexibility as an opportunity for innovation and design development. With the D900+, we have designed a versatile universal platform that allows people to take a risk when they style their space and developed a sealed unit that ensures thermal insulation."
The D900+ comes with the white Heavyweight fascia as standard and is available October 2013. The additional fascias are available. For more information, visit Brightgreen.com.